Skip to content
Skip to navigation menu
Lily's Kitchen Organic Adult Chicken & Vegetable Bake Dry Food for Dogs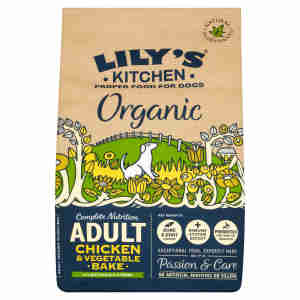 Rollover image to zoom
Lily's Kitchen adult organic chicken and vegetable bake for dogs tastes great and helps keep hips, bones and coats healthy.
What it's for
This dry food is made especially for adult dogs. Chicken and salmon contain Omega -3 and -6 oils which help strengthen bones, teeth and joints. Supplements glucosamine and chondroitin help maintain healthy cartilage to look after joints, too. This wheat-free kibble is perfect for pooches allergic or intolerant to wheat, while added prebiotics further ease digestion. If your dog is a little windy after meals, he might need to switch to wheat-free.
Key benefits
omega-rich chicken and salmon oils look after teeth, bones and hips
organic ingredients from the UK
made especially for adult dogs and what they need most
glucosamine and chondroitin help maintain healthy joints
nutritious vegetables are easy to digest and give slow-release energy
wheat-free and hypoallergenic
prebiotics help ease doggie digestion
botanical herbs help organs function as they should
How it works
This nutritionally-balanced kibble contains all the vitamins, minerals and antioxidants your dog needs to stay healthy and happy. Scrummy carrots are rich in vitamin A which helps keep eyesight good, broccoli is full of vitamin C which helps nourish skin, and spinach is a natural antioxidant which raises natural defences. The tasty chicken is organic and freshly prepared. This high-quality protein contains omega oils which help strengthen bones, muscles and joints. Added glucosamine and chondroitin help keep joints supple, too, which is especially important for adult dogs. Organic oats are a great source of energy and help organs function as they should. Botanical herbs bring more flavour and benefits. Milk thistle and burdock help flush toxins from the blood while goldenrod supports healthy bladder and kidney function.
Organic French Chicken (26%), Organic Rice, Organic Barley, Organic Oats, Organic Rice Protein, Organic Fishmeal, Organic Brown Lentils, Organic Gravy, Organic Flaxseed, Organic Sunflower Seeds, Organic Sunflower Oil, Minerals, Organic Chicken Oil, Organic Carrots, Organic Spinach, Organic Peas, Organic Parsnip, Organic Pumpkin, Organic Broccoli, Organic Honey, Organic Herbs (Golden Rod, Nettle, Aniseed, Celery Seeds, Rosehips, Marigold Petals, Cleavers, Milk Thistle, Dandelion Root, Burdock Root) Allergy Information: Free From Wheat, Free From Corn (Maize), Free From Soya\Soybeans
Dog Breed Size

Dry Only Grams / day

Wet + Dry Grams / day

Wet Only Tins / day

Small

30 to 100

For every 100g of Dry reduce Wet by 30g

0.25 to 0.5

Medium

100 to 220

0.5 to 2

Large

220 to 330

2 to 3

Giant

330 to 420

3 to 4
The table can be used as a general guide. Requirements depend on the amount of exercise, age, breed, environmental factors, neutered status and individual variation. The daily amounts for overweight dogs should be based on target weight not actual weight.
Customer reviews
Product reviews are filtered by language.
The following reviews are available in English.
It's sure not the cheapest food so I don't use it every meal but my dogs coat and general health shows what a great quality food it is. His black coat shine's with health and he eats every bit.

My dog is a fussy eater, put this down he ate the lot then started crying for more.

Started buying this towards the end of last year. Cato (Shih Tzu) was having major problems with skin iritation which was causing him to bite himself and pull out his coat-leaving nasty bare atches. Vet had been giving him steroids - which I felt to be a bad long term treatment. The itching returned. Decided to try Lily's Kitchen, together with Yumega PLus oil... results fantastic!! He really loves all these products-plate cleaned up and thoroughly licked afterwards. Skin problems gone!