Skip to content
Skip to navigation menu
Lypex Capsules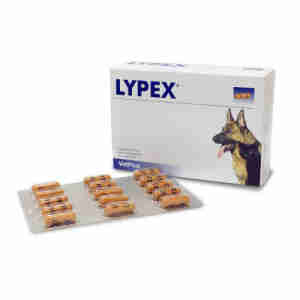 Rollover image to zoom
Product details
Lypex Capsules are a supplement that your vet might recommend to treat your pup's intestinal issues.

What it's for
Lypex Capsules are a pancreatic enzyme supplement. When your dog is feeling under the weather from a lack of enzymes produced by the pancreas, these capsules can help them on the road to recovery. Your vet can advise you if your pup would benefit from this supplement.
These capsules are most commonly used to treat illnesses like irritable bowel syndrome and bile salt deficiencies. They're covered in a special enteric coating, which means that they won't dissolve until they reach your dog's intestines, where they get to work straight away.

Key benefits
a pancreatic supplement for dogs with exocrine pancreatic insufficiency
enteric coating means they can get straight to the intestine
capsules need to be opened and put on your pup's food.
How it works
Sometimes your pup's pancreas might not be able to make enough enzymes for them to digest their food efficiently. This means that they're unable to get the nutrients and fats that they need from their food. A lack of digestive enzymes could lead to more serious illnesses in the gastrointestinal system, so it's important you act as soon as possible. If your pet is losing unexplained weight or has chronic diarrhoea, it could be down to an enzyme deficiency. Take them to see a vet for a full diagnosis.
Your vet might recommend that you use Lypex Capsules as a treatment for your dog. Always follow the recommended dosage on the packet for as long as your vet tells you to. Capsules should be opened and sprinkled on your pooch's food twice a day. If you notice any side effects, seek further advice from your vet.
Dosage
Dosage
For dogs over 10kg one capsule should be given with each meal (twice a day).
For cats and dogs under 10kg, half a capsule with each meal.
The capsule can either be given whole or sprinkled and mixed with the food.
Customer reviews
Product reviews are filtered by language.
The following reviews are available in English.
Lypex

My rough collie was very malnourished due to severe sickness and dihorea and had lost 3.5 kg he has been on lypex for 4 moths and has regained all the weight he lost and some. He is fit and healthy and I would highly recommend this product

My GSH/Bearded Collie came to us at a year old from the RSPCA with a cronic bowel problem. She is now 12 years old & full of health but we darenot take her off Lypex as there would be disaterous results.!!! Cow Pats everywhere! Thanks to Lypex those days are over.

I have been using Lypex for about 2 months now with fantastic results. My Border Terrier was loosing weight & showing clinical signs of pancreas problems so our vet put him on Lypex, and he hasnt looked back he has gained 2kg in weight & he is now back to his normal very cheeky self.Thank You Lypex.

We`ve been using Panzyme powder for 5 months and were getting mixed results. It was difficult to balance how much we gave her with how much she needed, and too much was as bad as too little!
Now with Lypex the wonder supplement, we don`t have to worry. It`s one capsule sprinkled per meal, and it gets to where its needed. It`s sorted out her cowpats and anal gland discomfort. What a difference!
Now, we have a normal dog and no worries