Skip to content
Skip to navigation menu
Metacam Oral Suspension Dogs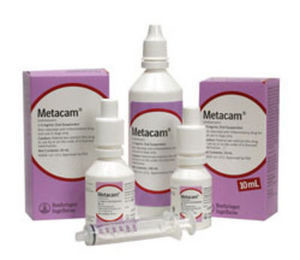 Product details
Metacam 1.5mg/ml Oral Suspension for Dogs is non-steroidal anti-inflammatory drug (NSAID) for dogs suffering from osteoarthritis.
How it works
The active ingredient, meloxicam, works by targeting and reducing the pain and inflammation associated with osteoarthritis. Your dog will love taking Metacam, as it has a honey-like taste and consistency. It's to be taken orally, but by dropping it onto your dog's food rather than directly into their mouth, you can reduce the chance of an accidental overdose. You should never give your pet a double dose of Metacam, even if they missed one accidentally. Note that the syringe given with this product is not suitable for dosing dogs that weigh less than two point three kilograms.
Key benefits
active ingredient Meloxicam helps manage symptoms of osteoarthritis
relieves joint pain, inflammation and swelling to make movement easier
tastes great for hassle-free administration
syringe has clear weight measurements so it's easy to give your dog the right dose
not to be used with other anti-inflammatory drugs or steroids.
When to use it
Osteoarthritis is a degenerative disease in which the cartilage around your dog's joints slowly breaks down. Your pet will let you know if they're suffering by showing a reluctance to move, lameness and walking stiffly. The symptoms will usually be worse during cold weather, after exercise and after a long period of lying down. Unfortunately there's no cure for osteoarthritis, but the symptoms can be managed using an NSAID like Metacam. Always speak to your vet before using Metacam and let them know if you notice any side-effects from the treatment, such as changes in stool consistency, changes in behaviour, irritated skin, yellowing of the eyes and gums or drinking excessively.
Customer reviews
Product reviews are filtered by language.
The following reviews are available in English.
Excellent service

Elderly Labrador now needs regular daily Metacam. Used to be supplied at great expense by the vetinary practice. However this is such an easy option once you have a prescription and saves a substantial amount of money. The company deliver a prompt and excellent service.

A miracle cure

My border collie has been suffering terribly with arthritis and was put on this medicine by her vet. Amazing result within days- able to jump in boot of car again, run with her siblings, get up without effort and pain- truly amazing stuff - very happy dog.

A miracle cure

My border collie has been suffering terribly with arthritis and was put on this medicine by her vet. Amazing result within days- able to jump in boot of car again, run with her siblings, get up without effort and pain- truly amazing stuff - very happy dog.

Metacam

As always, prompt and efficient service - most satisfactory. Product as expected.

METACAM

180ML WAS ALOT CHEAPER THAN MY VETS AND DID THE SAME JOB! BRILLIANT