Skip to content
Skip to navigation menu
Natural Vetcare Ageility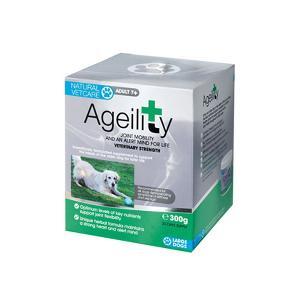 Product details
Natural Vetcare Ageility is formulated to help older dogs with ageing joints. It also has anti-oxidants, which help remove toxins.

Key Features:
Hawthorn – maintains healthy heart beat
Glucosamine & Chondroitin – target joint wear and tear
Ginseng – anti-ageing and anti-oxidant properties
Omicha berries – address excess toxins and supports liver function
Ageility is available in a tasty, easily digestable pellet. 150g offers approximately 30 days' supply for small dogs (up to 20kg) and 300g offers approximately 30 days' supply for large dogs (21kg and over).
Dosage
Directions: Ageility comes in a tasty, highly palatable pellet.
Small dogs up to 20kg, feed 2 scoops per day. Large dogs 21 to 40kg, feed 4 scoops per day.
Ingredients
Ingredients: Hydrolysed Poultry Protein, Glucosamine, Methyl sulphonyl methane, Omicha berries (44g), Ginseng (Siberian, 44g), Hawthorn berries (27g), Immortality herb, Chlorella (dried), Chondroitin sulphate.

Nutritional Additives: dl-Methionine (3.1.1, 47000 mg), Manganoussulphate, monohydrate (E5, 650 mg, 201 mgManganese), Sodium molybdate, dihydrate(E7, 20 mg, 7.96 mg Molybdate), Zinc oxide(E6, 5920 mg, 4260 mg Zinc), l-Carnitine (75mg), Vitamin B1 (114 mg), Vitamin B6 (113 mg).
Customer reviews
Product reviews are filtered by language.
The following reviews are available in English.
EXCELLENT

I have 2 Rottweillers 8 and 10 years old, they both have this in the food and it has worked great the 10 year old struggled getting up now he is jumping around everywhere