Skip to content
Skip to navigation menu
Naturediet Senior/Lite with Vegetables & Rice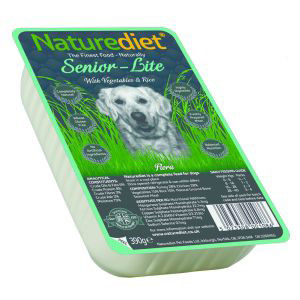 Product details
Naturediet Senior-Lite with vegetables and rice is a completely natural dog food that's tailored to meet the needs of dogs aged seven and above.
How it works
As your dog gets older, they might need a little extra help staying healthy. Their metabolism begins to slow down, so they don't need to take in as many calories as they did when they were younger.
This dog food meets their nutritional needs, with fewer calories. Going into older age, your dog's organs might not work as well as they once did. This mix is easy on their digestive system, so they can absorb the maximum amount of nutrients from their food. Made without artificial ingredients or flavourings, as well as being free from wheat gluten, it's also ideal for pets with allergies and intolerances.
Key benefits
designed for older dogs (aged seven and above)
suitable for adult dogs requiring fewer calories
nutritionally complete wet food
easy to digest and gentle on the stomach
lower in calories to ease the effects of slower metabolisms
free from wheat gluten (a common allergen)
contains no artificial colourings, flavourings or preservatives
two options: 18 twin packs of 390 grams, or 18 twin packs of 280 grams
When to use it
Once your dog is seven years or above, it's a good idea to switch to a senior food to make sure all of their nutritional needs are being met. The larger your dog is, the quicker they'll age. A giant dog such as a bullmastiff or great Dane will be considered elderly by the time they reach five or six, while a tiny dog like a pomeranian or pug won't be considered old until they've reached 12 years. This food has a low calorie count to stop your pet from putting on weight. It can be used as part of your dog's weight loss regime.
Customer reviews
Product reviews are filtered by language.
The following reviews are available in English.
Perfect

My pug is ten and overweight so I decided to see if she would like this and she enjoyed it so ordered more.

Nature Diet senior Lite

The food is ok but my fussy old lady still needs an addition. Not quite enough bulk for her. I can also buy this food for a bit less in the pet shop.....without the additional carriage price!

Happy with product

My elderly dog is diabetic too and i have to watch carbs for him. At the moment he is rather fussy about food and I am giving him this mixed with fresh food. Going okay at the moment and the smaller pack size is really handy and saves waste.