Skip to content
Skip to navigation menu
No Bark Collar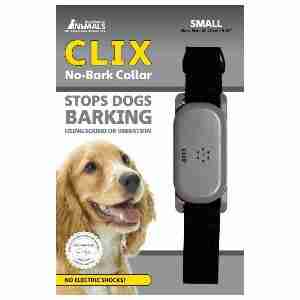 Product details
Formerly 'Company Of Animals Pettags No Bark Collar'

The new and improved version of the existing No-Bark Collar; the collar has been completely redesigned, not only in terms of aesthetics, but the functionality and software have also been improved. A new ergonomic shape is more comfortable for your dog to wear and the grey colour has a more subtle appearance. The collar still features the option to use either sound or vibration and has varying level settings dependent on the size of collar.
Sizes:
Small – Dogs 8-25lbs
Large – Dogs +25lbs
Customer reviews
Product reviews are filtered by language.
The following reviews are available in English.
No bark collar

I was initially delighted with this product as it stopped my yappy little dog in its tracks for the first few days and even helped stop him being aggressive towards other dogs. Unfortunately, after a few days he became used to the collar and it no longer controlled his barking and bad behaviour.

Clix no bark collar

I had a very anxious barking dog. Used the vibrate function which gently distracts and has really helped. We can now take the dog out amongst other people and dogs without the stress of her barking continuously. Excellent!!

It works a treat!!

So we purchased this anti-bark collar in the hope that it stopped my 7 month old Labrador puppy from barking every time we went in the car, or met up with others for a walk etc... I have to say I was dubious to start with, but I have to say it works really well. We initially put in on to vibrate on a medium setting, and as soon as my dog barked it vibrated and put him off barking. We only use it as a deterrent, to enable him to learn when not to bark.

Amazing!

I bought the Clix No Bark collar for my springer spaniel who used to bark constantly when we went in the car driving to the country for her walk. The collar arrived last Thursday so I popped it straight on and went for a drive - on the whole journey which used to be a very long 15 minutes there were just 2 little barks. It's now 4 days on and I can honestly say that driving to the country has once again become a peaceful drive thanks to the Clix collar. I would totally recommend this to anyone! :-)

Great

This is the second collar I have bought. I like these because they only vibrate or buzz, not a nasty shock. I do not always have to turn it on, only now and again as a reminder also only use when appropriate ( early morning, late at night and weekend ) This one is to leave at our caravan which makes it less stressful now when we let him out.