Skip to content
Skip to navigation menu
Nullodor Sensitive Cat Litter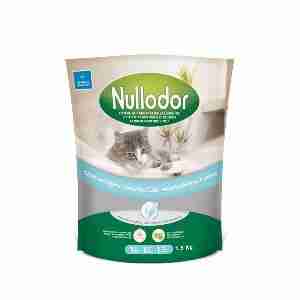 Product details
Nullodor Sensitive Cats
This litter has been specially made for the well-being and comfort of indoor and sensitive cats of all breeds.
Ultra-absorbant and gentle for paws, it respects all skin types, even the most sensitive (fragile breeds, dermatological sensitivity, delicate paws, cats who have recently had an operation, etc...).
Nullodor is a natural product made from very pure Silica gel and water. The mixture is gently heated at high pressure for several days. The slow evaporation of the water causes micro-pores and micro-capillaries to form, enabling each tiny silica crystal to instantly draw any moisture away from the surface to its centre. Each silica crystal has an absorption rate of 150%.Liquids are absorbed in a fraction of a second, then the water evaporates slowly to leave dry litter that can be re-used for a long time.
Nullodor completely locks away odours for a month. They are absorbed at the same time as the liquids. Whilst the liquids evaporate, the odours are trapped in the centre of the silica granules, totally blocking ammonia emissions.

An innovative product that after absorbing liquid, remains dry to the touch as well as neutralising odours. The special crystals allow moisture to evaporate, while odour molecules stay bonded in the crystals as countless micro-pores quickly soak up moisture, keeping your cat's litter tray cleaner for longer absorbing all moisture inhibiting bacterial growth and cat smells.

How to use it?

Pour the litter into a clean litter tray to a minimum depth of 3 cm.
Remove the excrements every day, shake the scoop well to retain the litter granules and throw the waste into the toilet. Don't forget to thoroughly mix the litter every day to avoid saturating the same point.
After a month's use, empty the entire tray into the household bin.
Customer reviews
We're sorry but there are no reviews of this product in English.