Skip to content
Skip to navigation menu
PURINA OMEGA Tasty Adult Dog Food Original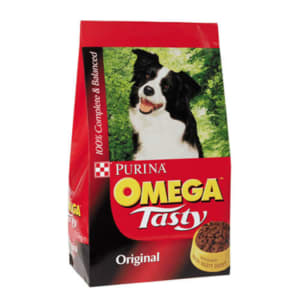 Product details
Omega Tasty Working Dog Food
Complete feeding stuff for adult working dogs.
Specially formulated for adult working, sporting and farm dogs to provide the correct balance of nutrients, vitamins and minerals to maintain health, fitness and vitality. 100% complete nutrition and high digestibility.
Ingredients
Omega Tasty Original Dog Food
Ingredients
Cereals, Meat and animal derivatives, Vegetable protein extracts, Derivatives of vegetable origin, Oils and fats, Minerals.
additives

Additives
Cupric Sulphate (Copper = 10 mg/kg) (Total Copper = 18 mg/kg)
With Antioxidant : BHA (E320), BHT (E321), Propyl gallate (E310),
Preservatives : Orthophosphoric acid (E338), Potassium Sorbate (E202),
Colorant : Carmoisine (E122) 
Vitamins
Vitamin levels are guaranteed up to the best before date 
Vitamin A : 12, 000 IU/kg
Vitamin D3 : 800 IU/kg
Vitamin E (tocopherol) : 60 mg/kg
Typical analysis
Crude Protein 27. 0%
Crude Fat 10. 0%
Crude Ash 7. 5%
Crude Fibre 3. 0 %
Dosage
Omega Tasty Original Dog Food
feeding instruction or guide:
Size of Dog Daily Feed (g/day)
Normal / Moderate activity / Intense activity
Small 5 - 12 kg 110 – 215 / 120 – 235 / 145 - 280
Medium 12 - 25 kg 215 – 370 / 235 – 410 / 280 - 485
Large 25 - 45 kg 370 – 575 / 410 – 635 / 485 - 750
Giant 45 - 70 kg 575 – 805 / 635 – 885 / 750 - 1045
These amounts are averages based on moderately active dogs. Individual needs vary and feeding should be adjusted as required to maintain your dog at a lean, healthy body weight.
Fresh, clean water should always be available.
Customer reviews
Product reviews are filtered by language.
The following reviews are available in English.
Excellent, quick service

Been ordering from here for last couple of years as product hard to find in stores. That said if it were available tomorrow id choose this site. Faultless!!!

omega tasty dog

Delighted with service & delivery of 2 bags. Excellent value & dogs love it..

Excellent

I have Ben ordering my dog food from you for many months now. Always easy to order, good value for money and fast delivery good when I forget to order my dog food until the last minute!

Difficult to find

I have been using Omega Tasty for years now for my 8 years old golden retriever/lab cross and for a more recent addition to our family, a 13 years old black lab, a retired guide dog who has been with us for 2 years. Unfortunately local pet shops stopped selling it over the years but one pet supermarket chain in my area stocks it and that's where I have been buying it, however they were recently out of stock for more than 2 weeks which is why I looked for the food elsewhere and discovered medicanimal.com. Excellent value for money and a great delivery service has won me over and I'll be buying from Medicanimal from now on.

Omega Tasty

Been feeding my black lab this starting with Omega puppy since we had him at 8 weeks. He is now nearly 12 and is still in fantastic shape, plus the vet says he has the best teeth he is ever seen on a lab of that age, they are still perfect, white and strong. All down to this food.