Skip to content
Skip to navigation menu
PURINA OMEGA Tasty Dog With Chicken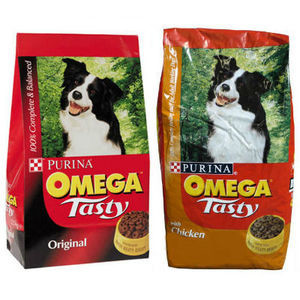 Product details
Omega Tasty Working Dog Food
Complete feeding stuff for adult working dogs.
Specially formulated for adult working, sporting and farm dogs to provide the correct balance of nutrients, vitamins and minerals to maintain health, fitness and vitality. 100% complete nutrition and high digestibility.
Ingredients
Omega Tasty Original Dog Food
Ingredients
Cereals, Meat and animal derivatives, Vegetable protein extracts, Derivatives of vegetable origin, Oils and fats, Minerals.
additives

Additives
Cupric Sulphate (Copper = 10 mg/kg) (Total Copper = 18 mg/kg)
With Antioxidant : BHA (E320), BHT (E321), Propyl gallate (E310),
Preservatives : Orthophosphoric acid (E338), Potassium Sorbate (E202),
Colorant : Carmoisine (E122) 
Vitamins
Vitamin levels are guaranteed up to the best before date 
Vitamin A : 12, 000 IU/kg
Vitamin D3 : 800 IU/kg
Vitamin E (tocopherol) : 60 mg/kg
Typical analysis
Crude Protein 27. 0%
Crude Fat 10. 0%
Crude Ash 7. 5%
Crude Fibre 3. 0 %
Dosage
Omega Tasty Original Dog Food
feeding instruction or guide:
Size of Dog Daily Feed (g/day)
Normal / Moderate activity / Intense activity
Small 5 - 12 kg 110 – 215 / 120 – 235 / 145 - 280
Medium 12 - 25 kg 215 – 370 / 235 – 410 / 280 - 485
Large 25 - 45 kg 370 – 575 / 410 – 635 / 485 - 750
Giant 45 - 70 kg 575 – 805 / 635 – 885 / 750 - 1045
These amounts are averages based on moderately active dogs. Individual needs vary and feeding should be adjusted as required to maintain your dog at a lean, healthy body weight.
Fresh, clean water should always be available.
Customer reviews
Product reviews are filtered by language.
The following reviews are available in English.
Back to the good old days

My dogs ate this as a kid that's what they sold in our local shop. Our dogs all lived in to their teens late teens so I gave it another go. All three dogs love it even my smallest a bishon likes a couple mixed in with his soft food. Good value & no runny poo which the dogs get from cheaper brands of dog food.

5 stars

Excellent from viewing to delivery

Omega is simply the best! I have fed this to my German Shepherd all her life and she clears her dish every time, it is the only food she does this with as she just picks at any alternative. she is 10 years old now and apart from routine visits to the vet she has always been a healthy happy dog with bright eyes and a lovely coat. I can't recommend Omega highly enough.

I have fed my varting breeds of dogs over the years Omega and find it exceptional.. I had a doberman, German Shepherd and now a lab and it has suited them all, all loving it and all exceptionally healthy with gorgeous coats. Fantastic value for money and saving pounds on vets bills as my dogs rarely needed visits to the vets. In my opinion cant buy better, highly recommended!!