Skip to content
Skip to navigation menu
Pedigree Rodeo Beef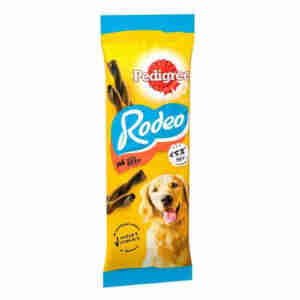 Pedigree Rodeo is a great way to reward your dog or simply show him how much you love him. With its unique twisted shape, irresistible meaty taste and satisfying, chewy texture, it will give your dog long-lasting enjoyment.

Key Benefits:
Omega 3 to help keep him fit for life
Calcium to help give him strong teeth & bones
Vitamins and Minerals to help maintain his natural defences

Tasty Chewy Twists with Beef
Fresh drinking water should always be available. Small dogs e.g. Cocker Spaniel, up to 2 sticks daily. Large dogs, e.g. Labrador, up to 3 sticks daily .