Skip to content
Skip to navigation menu
Pedigree Tasty Bites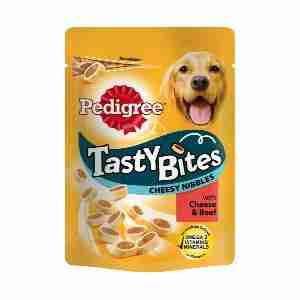 Product details
Pedigree Tasty Bites are little bite sized treats that are perfect to treat or reward your dog with. With Omega 3 to help keep him fit for lift as well as vitamins and minerals to help maintain natural defences and give him strong bones.

Cheesy Nibbles – Savoury cheese and beef in a small & soft treat.
Chewy Slices – Beef, meaty treat with a chewy texture.
Chewy Cubes – Chicken, moist, meaty chunks.
Crunchy pockets – Chicken, crispy treats with a delicious centre.
Customer reviews
We're sorry but there are no reviews of this product in English.