Skip to content
Skip to navigation menu
Pettex Clean Paws Super Clumping Cat Litter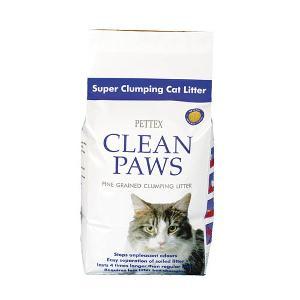 Product details
Clean Paws is a premium microgranule cat litter with superior clumping abilities.

Clean Paws comes from the world's only natural source of Sodium Bentonite. As well as being more economical to use due to easier waste separation, it is also environmentally friendly as with all Pettex Cat Litters.

A dust-free litter, Clean Paws is also suitable for cats with dust allergies too. It will also control odours effectively and last up to 4 times longer than regular litters.

Clean Paws is available is a 5kg or 15kg size.
Customer reviews
Product reviews are filtered by language.
The following reviews are available in English.
Great Litter. Great Price.

It does the job efficiently and economically. Very pleased with this cat litter.

Best clumping cat litter for the money

Does the job very economically. No waste.

Cannot understand some of the reviews here. It does it's job. I clean out the litter on Sundays and Wednesday and replace with new litter. Rest of the time I scoop it out. My kitten never refuses his tray and I find it does clump and with the aid of a scoop is easy to keep clean. I also use Bob Martin's litter freshener. The two together are great. Recommended :)

I have found this very good no mess walked around the house and no smell,I also find I can handle the 5kilo size bag the others are far to heavy for me to lift.

I find this very economical, as it is so fine all the loose litter drops back into the tray, making it easy to remove soiled part. I have found that it clumps fine provided you make the litter deep enough so the wet doesn't go through to the tray (3+ inches) and don't leave it too long before clearing so it doesn't start to dry out. If small bits fall off the main clump, I don't bother to remove them, it absorbs smells very well.