Skip to content
Skip to navigation menu
Prac-tic Spot-On Medium Dog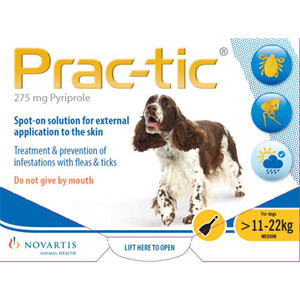 Product details
Prac-tic Spot-On solution is developed to kill fleas and ticks, as well as keep them at bay for a minimum of 4 weeks. Use as a treatment or as a monthly preventative. This spot-on treatment gets rid of fleas within 24 hours and ticks within 48.
Key features
provides a full month's tick and flea protection in each treatment
Remains effective when your dog jumps in water (48 hours after the treatment)
Prac-tic ensures your dog is protected all month long, wherever they go, whatever they get up to!
removes 99% of ticks in 48 hours
kills 100% of fleas in 24 hours
Prac-tic Spot-On can be used on puppies from 8 weeks of age and weighing over 2kg.
To ensure that you read the most up to date information about this product, please check the VMD's Product Information Database.
Legal category: NFA_VPS | Prac-tic Spot-On Medium Dog
Ingredients
1ml contains 125mg of Pyripole and 0.1 % Butylhydroxytoluene (E321).
Dosage
Within each weight range the entire contents of the correct size pipette should be deposited on the dog's skin.
Weight (kg)
Product to be used
2 - 4.5
Very small dog
4.5 - 11
Small dog
11 - 22
Medium dog
22 - 50
Large dog
For dogs over 50kg, use 0.1ml per kg of bodyweight. i.e 65kg would be 6.5ml.