Skip to content
Skip to navigation menu
Program for Dogs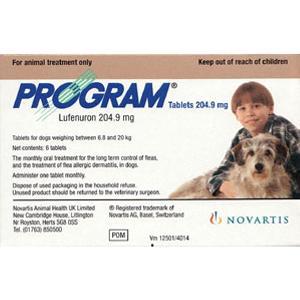 Product details
For the prevention and lasting control of flea infestation and the treatment of flea allergic dermatitis in dogs. Program is effective against the dominant flea species Ctenocephalides felis and C. canis.

Program tablets can be administered to all dogs including pregnant bitches and puppies taking solid food.

Directions:
Dogs 2.3Kg - 6.7Kg 1 tablet 67.8mg (Red) monthly
Dogs 6.8Kg - 20Kg 1 tablet 204.9mg (Brown) monthly
Dogs 20.1Kg - 80Kg 1 tablet 409.8mg (Grey) monthly

To be fully effective the tablets must be administered together with food. After administration, the dog should be watched for several minutes to ensure that the whole dose has been swallowed.

If dogs have a high level of flea infestation at the start of the treatment, it may be necessary to administer an appropiate flea aduticidal during the first one to two months. In cases of severe hypersensitivity further use of an adulticide may be needed.
To ensure that you read the most up to date information about this product, please check the VMD's Product Information Database.
Legal category: AVM_GSL | Program for Dogs
Customer reviews
Product reviews are filtered by language.
The following reviews are available in English.
critter free

my dog has been free from fleas never had them since taking program that is now 6yrs highly recommended

Program

Have used program since Khaleesi a puppy she's never had fleas or any problems taking the tablet. May not work for all dogs but I would recommend this product. She's 3 years now.

Long lasting flea prevention

I have used Program both in tablet form for all my dogs and as injection for my cats for about 20 years and can honestly say that I have never had a flea problem during that time. There was short period when the product was not available which meant I had to work very hard with other products to maintain the same level of control. I recently looked after a dog which had a flea allergy causing much distress and I recommended that he start on Program and this has worked marvellously!

Program

After trying various alternative products I started using Program with my two spaniels; the tablets are easy to administer and the results have been excellent. The dogs have been consistently flea free.

I have two long haired German shepherds so keeping them few clear can be hard, what with cross contamination their long double coat and the fact they hate the treatments given by papettets .. This was so easy they ate the pills no problem with their food but more importantly. NO Fleas. Perfecto gets mine and our dogs vote no problem