Skip to content
Skip to navigation menu
Protexin Pro-Fibre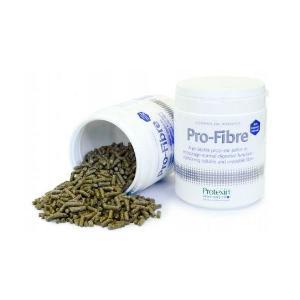 Product details
Protexin Pro-Fibre can be added to your cat or dog's daily meal for a boost of fibre.
What it's for
Vomiting, diarrhoea and constipation are all signs that your cat or dog is experiencing tummy upset, which could be caused by a lack of fibre in their diet. If you notice these symptoms, you should take your pet to see the vet as soon as possible.
To help ease the symptoms of an upset tummy, these pellets can be added to your pet's daily food for as long as necessary. Always follow the feeding guidelines on the packet for your dog or cat's weight and breed.
Key benefits
tasty pellets that can be taken with your pet's food
an easy fibre boost
for cats and dogs
prebiotics and probiotics help good bacteria to grow
'friendly' bacteria helps fight harmful toxins.
How it works
Protexin Pro-Fibre is a tasty supplement that makes sure your pet is getting a decent amount of fibre with their meals. Some cat and dog foods don't contain enough fibre to keep your pet's digestion healthy. Lack of fibre can lead to nasty digestive upsets.
These pellets are super tasty, so you can slip them into your pet's meal without them knowing they're there. They're a quick and easy way to boost your four-legged friend's fibre intake. A good amount of fibre in their diet means that your pet can digest their food more easily, which in turn means they absorb more nutrients from every bite.

Added prebiotics and probiotics help good bacteria to grow in your pet's gut. This good bacteria is essential for keeping their digestive system healthy as it helps to fight the harmful bacteria that causes tummy upset.
Customer reviews
Product reviews are filtered by language.
The following reviews are available in English.
Pro Fibre Competitively Priced and seems to do the job

My 11.5 year-old retriever was having anal gland issues. Since putting her on Protexin Pro Fibre, she seems much better. It seems to bulk out her stools a little and make them more consistent in firmness.

Protexin Pro Fibre

An excellent product at a price much lower price than my local vets. I can highly recommend this product from Pet Supermarket.

great product

really good for my cavalier king charles would highly recommend this product

Pro fibre

Good stuff, does what it says , helps my dog with her impacted anal glands,

Recommended by vet.

Pro-Fibre was recommended by my vet for one of my dog's anal gland problems blocked and infected. Since she has been having it mixed with her food, she has had no problems.