Skip to content
Skip to navigation menu
Protexin Pro-Kolin Plus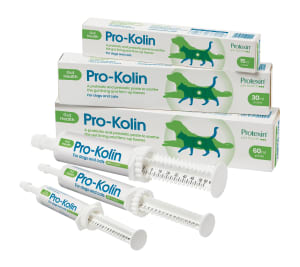 Product details
Protexin Pro-Kolin Plus is a beef-flavoured supplement specially designed for cats and dogs with upset tummies.

What it's for
It's easy to tell if your cat or dog is experiencing an upset stomach; you might notice that they vomit, have diarrhoea or are tired more often than usual. When you spot these symptoms, make an appointment to see your vet straight away.
Protexin Pro-Kolin Plus can help to balance the digestive system when your cat or dog has a tender tummy. Use the syringes included to feed your cat the supplement for as long as your vet recommends.

Key benefits
a supplement for cats with tummy upset
soothes gut lining when it's inflamed
kaolin helps firm up poo
probiotics encourage 'friendly' bacteria to grow
tasty beef flavour
easy-to-administer syringes in two sizes: 15 millilitres and 30 millilitres.
How it works
Protexin Pro-Kolin Plus is packed full of goodness to help soothe and balance your cat's or Dog's stomach when they're feeling under the weather. This paste restores microflora in the digestive system to calm the stomach lining, which can become inflamed and sore with sickness.
Pro-Kolin Plus uses 'friendly' bacteria that's kind on the gut to fight off harmful bacteria that could be causing the tummy upset. It uses clever preplex prebiotics to feed this good bacteria so that it can grow and restore balance to the digestive system.
When your cat's tummy is upset, it can mean that their poo is runny and watery and passing it is uncomfortable. This paste uses kaolin to firm up your pet's bowl movements. Artificial beef flavouring makes the supplement tasty and tempting to your cat, so it's easy to feed to fussy eaters.
Dosage
Recommended use:
Puppies and cats: 1-2 ml every 8 hours, for as long as considered necessary.
Adult dogs: 2-5 ml every 8 hours, for as long as considered necessary.
Customer reviews
Product reviews are filtered by language.
The following reviews are available in English.
Perfect

This product does exactly as it says, it's palatable and a great price. A must have as a standby in my pooches first Aid ⛑ box

Always have some handy, excellent and fast acting

Was prescribed this by the Vet when our Collie had an upset tummy a few years ago. She can be inclined to be a bit loose at times and had given her the Pro-Kolin. The tubes are long dated. Would recommend if you have a dog to keep a tube of this . Its easy to use and the markings on the tube, make it easy to give a set dose.

Pro kolin +

My 15 yr old Springer cross was messing all over the house with diarrhoea I starved his system for 36 hrs which usually does the trick but it didn't worked I thought it was his time and was preparing to lose him but took him to emergency vet at 430 in the morning they gave me pro kolin+ hes a lot better still sleepy and loose but vet said it would take about 3 days hrs stopped doing it in the house and is on scram egg chicken and rice I do recommend it

Pro kolin

This stuff is amazing. If you have a dog keep some in the cupboard. My 12 1/2 yr old golden retriever gets upset tums sometimes quite bad. I see it potentially happening and give him two x 5ml of this in his mouth or in food and it settles it, it's amazing. Always got two tubes indoors.

Best product

Pro kolin plus brill product easy to use. Straight in dogs mouth or squirt on food or in dish. Stops upset tums pretty quick. Amazing. Always have some in. I have an old retriever and this is a regular prob, but no longer big prob as this always sorts it out. If dog has bad runs just do the starve for 12 or 24 hrs then start back on fish n rice along with using this for about 2 days. Sorted! A year ago my dog had bad runs. Took to vet. They said They now don't believe in starving so carry on feeding etc. We've been given jab before that stops it. Nothing. This dreadful upset went on for a month! Can you picture it? An almost white golden retriever with bright yellow runs for a month! Ridiculous. Oh and it cost £600!! For the runs! Get a couple of tubes off this in stock for £30 and jobs a good un!