Skip to content
Skip to navigation menu
Protexin Professional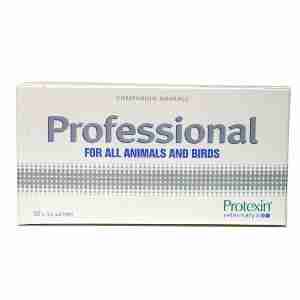 Product details
Single 5g sachets.

A highly concentrated soluble formula that may rapidly restore the microflora in the gut. Easy to use sachet presentation.
Ideal for young animals or birds transferring to a new home
May be used as a conditioner following digestive upsets or antibiotic therapy
May be used as an aid to convalescence improving utilisation of food
Professional for All Animals and Birds is a highly concentrated soluble powder containing beneficial microorganisms. The beneficial microorganisms contained in this product occur naturally in the gut of all healthy animals. These microorganisms colonise the immature gut or re-establish the disrupted gut, thus promoting the mechanism of competitive exclusion against potential pathogenic bacteria. This product is formulated for continuous use and may promote efficient digestion and boost natural immunity, particularly at times of stress when digestive upsets occur. The product is presented in a 5g foil sealed sachet for versatile use in a variety of circumstances.

Use:

Add 1g to the water or food daily

If added to water the water should be replaced after 12 hours.
Please consult your vet for advice on the use of this product prior to use .Alternatively call our Pharmacy dept and ask to speak to one of our vets who will be able to advise you on the most suitable solution for your pet.