Skip to content
Skip to navigation menu
Purina Beta Adult Working Dog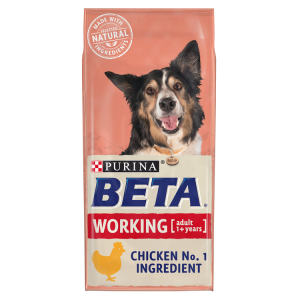 Product details
Keep your dog in shape with the tasty and nutritious Purina Beta Adult Working Dog Food.
What's it for
This dry mix is made to meet the needs of working dogs with very active lifestyles. As such, it's packed full of vitamins, minerals and nutrients to keep them in top condition when on-the-go.
Added vitamins A and E keep their coat thick and glossy and their immune system strong. As well as this, amino acids take care of their muscles, repairing any damage and keeping them physically fit. Free from any artificial ingredients, this mix is ideal for pets with allergies. It's easy to digest thanks to added prebiotics, and is unlikely to cause irritation to their stomach after eating.
Key benefits
high-protein mix for extra energy
specifically designed for working and hunting dogs
antioxidants and vitamin E for a healthy immune system
prebiotics aid digestion
tasty chicken flavour
How it works
This complete dry dog food is packed full of ingredients to keep working dogs full of energy throughout the day – whatever job they have to do! It contains lots of good fats and proteins to give your pet the energy they need to hunt or herd.
What's more, Purina Beta Adult Working Dog Food can replace your pooch's regular food for life. Try feeding it to them for a short trial period and monitor them closely for any changes in mood or behaviour. If you have any concerns, speak to your vet for advice.
Always check the feeding guidelines on the packet before switching your dog's food. It's important that they get the right daily amount for their weight, age and breed.