Skip to content
Skip to navigation menu
Purina Pro Plan Adult Dog Light or Sterilised Chicken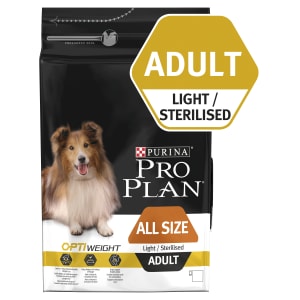 Product details
Purina Pro Plan Dog All Sizes Adult Light or Sterilised with Optiweight rich in Chicken is perfect if your pet is having problems staying at their ideal weight.

What it's for
If your dog gains weight easily, then it could lead to more serious problems. Obesity can put a lot of strain on your pet's joints for example, and make it harder for them to exercise and play. It can also shorten their lifespan. If your pooch is getting a little bit overweight, then one of the best solutions is to stop the weight gain early. This Purina Pro Plan Dog All Sizes Adult Light or Sterilised with Optiweight is designed to do just that. Using a special blend of ingredients that provide top quality nutrition for your four-legged friend, it helps them to stay at their ideal weight.

Key benefits
Optiweight formula encourages healthy weight loss
low fat
low calorie
promotes joint health
high-quality pieces of chicken
kibble shape for dental health
contains all the nutrients your dog needs
tasty and satisfying for your pet.
How it works
Purina's special recipe, Optiweight, is packed with all the healthy nutrients, vitamins, and goodness that your pooch needs for a healthy diet. It's also been carefully blended to make sure that fat and calorie content is low. That means your dog is less likely to put on weight. It also helps your pet to burn those pesky calories more easily, and gives them all the energy they need to stay active. Fibre keeps your dog satisfied after eating for longer too, by helping them to feel fuller, while the great tasting chicken pieces mean they'll love every bite.
Warnings
| | | | |
| --- | --- | --- | --- |
| | Maintenance | Sterilized | Weight loss |
| 1-10kg | 45-200 | 35-175 | 30-150 |
| 10-25kg | 200-370 | 175-320 | 150-275 |
| 25-35kg | 370-460 | 320-400 | 275-345 |
| 35-45kg | 460-545 | 400-475 | 345-410 |
| 45-70kg | 545-735 | 475-640 | 410-550 |
Clean, fresh water should be available at all times.
Customer reviews
We're sorry but there are no reviews of this product in English.