Skip to content
Skip to navigation menu
Red Tartan Bow For Cats, Small & Medium Dogs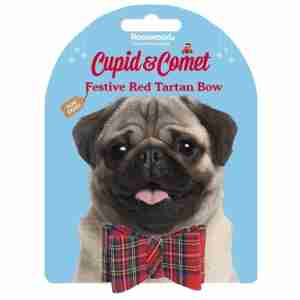 Rollover image to zoom
Product details
Dress your dog up like a Christmas gift this winter with this red tartan bow for small and medium dogs.
How it works
Designed to look like a smart bow tie, this product can be easily slipped over your dog's collar and secured in place with the elasticated loops. It's the perfect accessory for the Christmas season, though it's versatile enough to add a dose of cuteness to any occasion throughout the year.
Small and subtle, this bow shouldn't get in your dog's way as they pad around the house and garden. In any case, remember that you should supervise your pet at all times while they're wearing dress-up items, so they don't get caught on something and become distressed. This bow is made specifically for small- to medium-sized dogs, like Yorkshire terriers, beagles and Jack Russells, although there's also a larger version in the Christmas collection for bigger breeds.
Key benefits
simple dress-up item for Christmas
festive red tartan design
available in two sizes: small and medium
easy to put on and take off
subtle design, suitable year-round
When to use it
Some dogs love being dressed in warm jumpers and jackets when the weather's cold, but others will fight you tooth and nail to avoid it. This bow strikes just the right balance: it's fun for you to get your pet in the Christmas spirit and not intrusive for your dog, so they won't feel uncomfortable while wearing it.
Whenever you start celebrating – whether that's just after Halloween or in the last few days leading up to the big event – attach this bow to your dog's collar so they can join in the Christmas fun. It's sure to be a talking point at the table.