Skip to content
Skip to navigation menu
Royal Canin Canine Gastro Intestinal Low Fat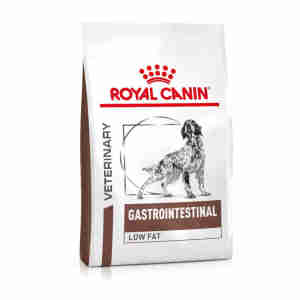 Rollover image to zoom
Product details
Royal Canin Canine Gastro Intestinal Low Fat has been specially blended to help relieve your dog's tummy problems, so they can enjoy a healthy, happy life.
What it's for
If your dog suffers from a tummy disorder, it's likely to make them uncomfortable, unhappy, and unable to really enjoy their food. There are a few things to keep an eye out for if you think your dog might have this kind of problem.
Next time you feed your dog, watch to see if they've changed their eating habits. Most dogs will eat pretty much anything, and it's quite rare they won't finish everything you put in their bowl! If your dog doesn't seem that interested in their food anymore, that could be a sign of a tummy problem. They could also be sick a lot, or have diarrhoea. If you do spot any of these symptoms, take your pet to the vet straight away. Some stomach problems can be very serious.
The right diet is really important for any animal, so make sure you check with your vet before feeding Royal Canin Canine Gastro Intestinal Low Fat to your dog.
Key benefits
specially developed to help your dog's tummy stay healthy
gentle, easy to digest recipe means your dog can enjoy the food even with a sensitive stomach
low fibre means they can go to the toilet easier
antioxidants boost your dog's immune system
packed with nutrients
low in fat.
How it works
The food is a careful mix of low fat ingredients and lots of fatty acids. These are really good for your dog's digestion, and can help reduce and soothe any tummy problems. The ingredients are all natural too, which means there's less chance they'll irritate your dog's system.
Protein is a very important part of your dog's diet. It's usually found in meat, but some of these proteins can be bad for your dog if they have tummy upsets. The proteins in this food are specially chosen because they are gentle. What's more, they're already broken down into smaller parts, so your dog will be able to absorb them really easily.
Not recommended in cases of:
Pregnancy and lactation
Ingredients
Royal Canin Canine Veterinary Diet Gastro Intestinal Low Fat Lf22
Dry - Rice, dehydrated poultry meat, wheat, barley, hydrolysed animal proteins, beet pulp, animal fats, yeasts, minerals, fructo-oligo-saccharides (FOS), psyllium husks and seeds, fish oil, hydrolysed yeast (source of manno-oligosaccharides), marigold extract (source of lutein).

Wet - Pork liver, pork meat, maize, rice, minerals, cellulose fibre, beet pulp, taurine, yeast extract (source of mannan-oligosaccharides), fish oil, marigold extract (rich in lutein), trace elements (including chelated trace-elements), vitamins.
Warnings
Weight (kg)
Lean
Normal
Overweight
(g / day)
Cup / day
(g / day)
Cup / day
(g / day)
Cup / day
2
52
7/8
45
4/8
39
3/8
4
87
1 2/8
76
6/8
66
6/8
6
118
1 4/8
104
1 1/8
89
7/8
8
146
1 6/8
128
1 3/8
111
1 1/8
10
173
2 4/8
152
1 5/8
131
1 3/8
15
234
3
206
2 1/8
178
1 7/8
20
290
3 5/8
255
2 5/8
221
2 2/8
25
343
4 1/8
302
3 1/3
261
2 6/8
30
393
4 5/8
346
3 5/8
299
3 1/8
35
442
5 1/8
389
4
336
3 4/8
40
488
5 1/8
429
4 4/8
371
3 7/8
50
577
6
508
5 2/8
438
4 5/8
60
661
6 7/8
582
6 1/8
503
5 2/8
70
743
7 6/8
653
6 6/8
564
5 7/8
80
821
8 4/8
722
7 4/8
624
6 4/8
Customer reviews
Product reviews are filtered by language.
The following reviews are available in English.
good service

have to buy this brand as my Cairn has Cushings and have to be careful not to feed her to much fatty food.

Molly and Tillys Favourite Food.

Molly has a tummy that gets very windy and bloated and she loves Royal Canin Gastrointestinal low fat food because it doesn't upset her tummy. Tilly is lucky to thrive on the same food.

Fast & Efficient Service

My 12 year old Cavalier King Charles was diagnosed with pancreatitis a few months ago. Our vet advised Royal Canin gastrointestinal low fat for her. She likes the food & seems to be doing well. I would strongly recommend this product.

Great to settle dog's tummy

Our 13 yr old Golden Retriever had Pancreatitis last year and has just been diagnosed with Cushings. She needs a low fat diet and this Royal Canin Low Fat has helped settle her tummy. Well recommended.

Very satisfactory

We ordered this because of vet's recommendation. Package arrived promptly and our dog seems to love it even more than his previous type.