Skip to content
Skip to navigation menu
Royal Canin Canine Satiety Support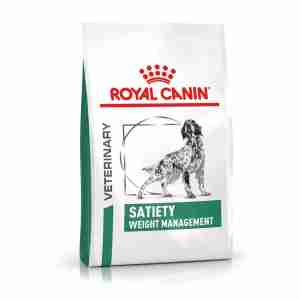 Rollover image to zoom
Product details
Royal Canin Canine Satiety Support is low in calories but high in fibre, keeping dogs feeling fuller for longer.
What it's for
Dogs slowly gain weight over the years. Sometimes it's hard to notice until they become overweight. Obesity can cause serious health problems like diabetes, joint and bone pain and can even lead to a shorter life. If you're not sure whether your dog's obese or not, you can do a couple of quick tests. The first is to look at them from above: can you see a waist? If so, they're fine. Another test is to gently stroke their side and see if you can feel their ribs.
Most dogs gain weight because they eat too much and don't exercise enough. It's important to go to the vet, though, as it can be a side effect of other illnesses like Cushing's disease, pancreatic cancer and hyperthyroidism. All of these need extra treatment so make sure your vet rules these out before you put your pooch on a diet.
Key benefits
low calorie for faster weight loss
high in fibre to keep hunger at bay
lots of protein to keep muscles healthy
added nutrients for improved joint and bone health
packed with vitamins and minerals
should be your dog's only food source during the diet.
How it works
Royal Canin's team of vets and nutritionists have put together this tasty diet food especially for dogs that need to lose a bit of weight. The formula is high fibre so that your dog feels full and satisfied for a longer time after eating, even although they've had fewer calories. This stops them begging for snacks and overeating, making weight loss a bit easier. Overweight dogs are more likely to develop joint and bone problems, and this food has a special mix of nutrients to help keep these body parts in prime condition.
Like all good diet foods, Royal Canin Canine Satiety Support is low calorie. Your dog should still lose weight even if they find it hard to exercise. The food has plenty of extra vitamins and minerals to give your furry friend an energy boost, encouraging them to be active and healthy. There's lots of protein in there too, which makes them feel fuller for longer and keeps their muscles strong.
Veterinary diets like this one have been specially made to support pets with specific medical conditions. Because of this, they might not be suitable for all pets, so we'd recommend getting professional advice before feeding them to your pet. If you think your dog could benefit from eating Royal Canin Canine Satiety Support, why not have a chat with your vet?
Customer reviews
Product reviews are filtered by language.
The following reviews are available in English.
Canon dietary dog food

Recommended by vets as I have a typical lab who loves food and to find it everywhere we go so weight became something to watch, he is now 10 and still loves his dietary food and maintains a great weight

Canin dietary dog food

Great for my dog she's lost weight

Can't do without it

Suggested by our vet several years ago as our now senior whippet put on a lot of weight due to being "done". We find that other foods do not fill him up and leave him hungry and so we'll be buying this for the duration.

Satiety Support

On my vets recommendation I was asked to try this with my 4.5 year old Yorkshire Terrier who had gained a fair bit of weight due to too many human food titbits. His begging has got so much better as I think he is kept fuller for longer. He has already started losing weight after 1 month on Satiety and looks so healthy and even more sprightly so hopefully after a couple of pounds of weight loss he will be back to his original tiny size and so reducing strain on his joints/legs etc. Good stuff

Good Stuff

Good stuff, good price, gppd delivery