Skip to content
Skip to navigation menu
Royal Canin Canine Sensitivity Control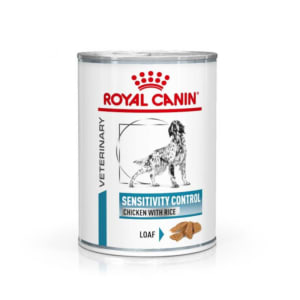 Product details
Royal Canin Canine Sensitivity Control (Wet) is ideal for dogs struggling with food intolerances and allergies.
What it's for
Just like humans, dogs can be allergic to certain ingredients in their food. The most obvious sign of an allergy is itchy, flakey or irritated skin. If they keep eating the thing that makes them sick, these skin problems can spread over their whole body – making for a very uncomfortable and unhappy pet!
If you suspect that your dog is allergic to something they're eating, it's really important to talk to a vet as soon as possible. They might suggest that you try a food elimination diet to figure out what's triggering your dog's allergies. This means completely changing your dog's diet to the simplest things possible and reintroducing different ingredients individually to see which one's causing the trouble. This food's simple recipe makes it ideal for elimination diets, since its hypoallergenic formula means it's unlikely to trigger any allergies itself.
Key benefits
reduced number of protein sources, making it very easy to digest
contains EPA and DHA, fatty acids that help to heal your dog's damaged skin
special ingredients to help strengthen the skin's natural barrier.
How it works
Royal Canin Canine Sensitivity Control (Wet) is designed to tackle the main causes of allergies and to help your pooch manage their side effects. It's made with a smaller number of protein sources than other dog foods, which makes the food much gentler on your dog's tummy and easier to digest.
The high levels of fatty acids (EPA and DHA) help to strengthen the natural ability of your dog's skin to heal after an allergic reaction and to stop further infections in their tracks. The food is also made with all of the essential nutrients and ingredients needed to help your dog live a fit and healthy life.
Veterinary diets like this one have been specially made to support pets with specific medical conditions. Because of this, they might not be suitable for all pets, so we'd recommend getting professional advice before feeding them to your pet. If you think your dog could benefit from eating Royal Canin Canine Sensitivity Control (Wet), why not have a chat with your vet?
Not recommended in cases of:
- Pancreatitis
Ingredients
Royal Canin Canine Veterinary Diet Sensitivity Control Sc 21
Dry - dehydrated duck meat, hydrolysed poultry proteins, vegetable fibres, animal fats, beet pulp, fish oil, soya oil, psyllium husks and seeds, minerals, fructo-oligo-saccharides (FOS), marigold extract (source of lutein).
Duck & Rice Cans - Duck Meat, Rice, Fish Oil, Sunflower Oil, Cellulose Fibre, marigold extract (rich in lutein), Fructo-Oligo_Saccharides(FOS), trace elements (including chelated trace elements), vitamins.
Chicken Cans - Chicken meat, chicken liver, rice, fish oil, sunflower oil, cellulose fibre, minerals, taurine, Fructo-Oligo_Saccharides(FOS), marigold extract (rich in lutein), trace elements (including chelated trace elements), vitamins.
Customer reviews
Product reviews are filtered by language.
The following reviews are available in English.
Excellent

Excellent Product and Service from the Distributor and it help the Pet a lot.

Excellent

Excellent Product and Service from the Distributor and it help the Pet a lot.

Absolute Favourite

My rescue cross-breed has been on this and the dried version on veterinary advice for a number of years now. He has very regular check-ups for an immune condition so his supervision is on-going as required. His digestive troubles are gone now and when hes not having a ;flare up he looks good on it. The most important thing for him though is the fact that he absolutely LOVES the moist version, he drools in anticipation and will cry if I don't get it in his bowl quickly enough!! Great food for sensitive dogs but veterinary supervision is a must to make sure you get it right.

Royal Canin prescription diet, chicken and rice

This food has been prescribed by my vet and I cannot rate it high enough. My westie has allergies to a vast number of things and on this food he is thriving. His skin and digestion have improved so much and he's keeping weight on. My only complaint is that in every case of 12 tins I buy over half of them are dented, so only slight but others really bashed about.

Excellent

Duck & Rice , Chicken & Rice are great products , it really help my dog with a sensitive stomach.