Skip to content
Skip to navigation menu
Royal Canin Canine Urinary S/O Moderate Calorie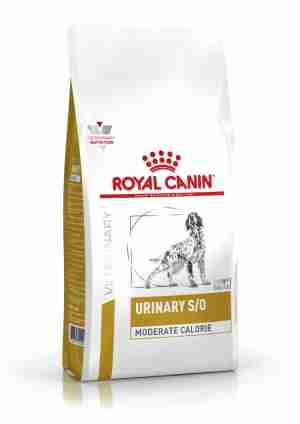 Rollover image to zoom
Product details
If your dog's struggling with urinary problems, think about switching their food to Royal Canin Canine Urinary S/O Moderate Calorie, which helps to dissolve bladder stones while keeping your dog at a healthy weight.
What it's for
Urinary conditions are caused by struvite stones, which form in your dog's bladder and make it difficult for them to pee. It can be quite painful for your dog and, if not treated quickly, can lead to quite serious consequences. If you notice that your dog is having difficulty peeing, if their pee seems cloudy or bloody, or if they seem a bit tired, talk to your vet about treatments for urinary infections. Remember, sometimes urinary conditions don't show any of these signs, so if you suspect that anything is wrong with your dog's health, it's always a good idea to talk to your vet.
They may advise you to switch your dog to Royal Canin Canine Urinary S/O Moderate Calorie, which helps to dissolve urinary stones and get your dog back to their healthy former self.
Key benefits
makes your dog's urine more acidic, which helps to dissolve struvite stones
regulates the amount of magnesium in the bladder, making it less likely that more crystals will form
low calorie formula helps overweight dogs to keep a healthy bodyweight during treatment.
How it works
Royal Canin Canine Urinary S/O Moderate Calorie attacks struvite stones in several key ways. Firstly, it makes your dog's pee more acidic. That sounds quite serious, but what it actually means is that the pee will be so acidic that it will dissolve the struvite stones in your dog's urinary tract. The food helps your dog to produce more urine, which lowers the concentration of struvite stone-forming crystals in their pee, making them less likely to get bladder stones and keeping them happy and healthy!
Veterinary diets like this one have been specially made to support pets with specific medical conditions. Because of this, they might not be suitable for all pets, so we'd recommend getting professional advice before feeding them to your pet. If you think your dog could benefit from eating Royal Canin Canine Urinary S/O Moderate Calorie, why not have a chat with your vet?
Customer reviews
Product reviews are filtered by language.
The following reviews are available in English.
Perfect for Purpose

Following a problem with crystals blocking the bladder, our vet advised this food. At first, we worried that she might not take to it...but absolutely no hesitation. Never objects to it & no recurrence of issue so it certainly does the job for which it was designed.

Stops frequently for leaks

As my title states;my dog would do tiny wees every ten metres or so-I thought she was marking her walks!Recently she rubbed up against me n I felt a hard lump big around her belly.The Vet,after a Scan, said it was the worst case of Bladder Stones he'd ever seen & wanted to Operate immediately!The result was a kilo of stones of all sizes like he had gathered from the Beach! My dog has taken to this food even though it tastes very salty to me.This is to encourage drinking water to dilute the urine.This food is for the long term & better to have to prevent a reocurrance! I now have my old dog back full of life n walking with a spring in her step. I have had to reduce the recommended food intake by 30% as she was putting on weight.So far,so good and it's use is cheaper than another Op & the stress of a occurrence.

Dog food

Excellent product and excellent service.

royal canin urinary moderate cal

dryed dog food royal canin urinary so moderate cal have used this for a few years now recommeded by vet always fast delivery

royal canin urinary moderate cal

dryed dog food royal canin urinary so moderate cal