Skip to content
Skip to navigation menu
Royal Canin Dachshund Dry Adult Dog Food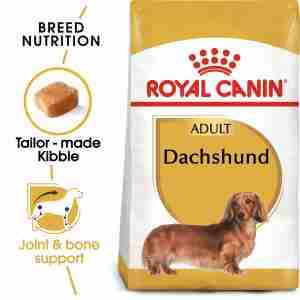 Rollover image to zoom
Product details
Royal Canin Dachshund Adult is tailored especially for the nutritional requirements of your adult dachshund.
It's a well-rounded blend that contains both animal and plant proteins, as well as a variety of vitamins and minerals. Glucosamine helps to support your dog's bone and joint health. The mixture also contains green tea and grape extracts which provide antioxidants. These strengthen your dog's immune system, while also fighting the formation of free radicals. Free radicals can cause damage to your dog's healthy cells if not kept in check, which can eventually lead to further diseases, such as kidney infections.
A high 28% of the recipe is protein, which aids and supports your dog's muscle tone. Additionally, the kibble design is rich in calcium chelators, or specially bonded calcium molecules, which combat the formation of tartar on your dog's teeth. High quality ingredients, including soya and fish oil, contribute to reduced stool odour.
Key features:
nutritionally optimised specifically for your dachshund
glucosamine and vitamin content maintains joint and bone health
rich in antioxidants, which bolster your dog's immune system while fending off free radical formation
high in protein to help muscle tone
kibble features calcium chelators – specially bonded calcium designed to reduce tartar formation
high quality ingredients reduce stool odour.
Your dachshund's unique features can also sometimes be the source of health problems. The long body means that the spine can be exposed to more stress than in other breeds, particularly if your dog jumps frequently. Helping to strengthen the joints and bones through your dachshund's diet can, therefore, be a good pre-emptive approach. Intervertebral disk disease is also very common among dachshunds, and can lead to serious spinal and movement problems. Diet can often play a part in minimising the risk of this disease developing, as overweight dogs are more at risk. The specially tailored diet of Royal Canin Dachshund Adult can certainly contribute to limiting these problems, as a result. You should always consult your vet first if your dog is displaying signs of
Ingredients
Additional Information
| Weight kg | Low Activity g per day | Moderate Activity g per day |
| --- | --- | --- |
| 2 | 43 g | 50 g |
| 4 | 72 g | 84 g |
| 5 | 85 g | 99 g |
| 6 | 98 g | 113 g |
| 8 | 121 g | 140 g |

Water should be available at all times

We remind you of the necessity of watching your dog's body condition, and regular visits to your veterinary
Check your dog's body condition
Feeding Guide
Customer reviews
Product reviews are filtered by language.
The following reviews are available in English.
Happy Dogs!! Excellent service

Dogs love the food. It keeps then in good condition. Easy to use website and always prompt delivery.

Delicious

Dogs love it, even the cat who is very fussy. Not recommended for cats but if they eat it, it's go to be good!!

Happy Harley

He loves the food and it keeps him in good condition .As it is special for his breed am sure I am doing my best for him.

Royal Canin Dachshund Adult

We have been using this product for our 2 Dachsies, now 12 and 14, for the last 10 at least and they are both in excellent condition and they thrive on it

Great service

Prompt delivery easy to use website