Skip to content
Skip to navigation menu
Royal Canin Dalmatian Adult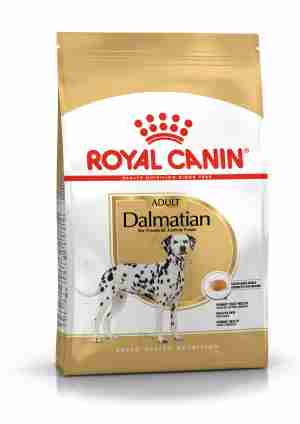 Rollover image to zoom
Product details
Royal Canin Dalmatian is a complete food specially made for Dalmatians over 15 months old to keep their bladder healthy.
What it's for
Some breeds of dogs are more likely to have problems that others don't and this is true for your Dalmatian. This breed's more likely to get bladder stones. A bladder stone's a build-up of minerals in your dog's bladder and can be very painful. It can stop them being able to go to the toilet, or make going to the loo hurt.
Because Dalmatians are more at risk from bladder stones, a special diet like Royal Canin Dalmatian can help to keep their bladder healthy and your pet happy, playful, and fun.
There are a few signs to watch out for if you think your dog might have bladder stones. They'll have more trouble going to the loo, so watch them during walkies. Their wee might also be cloudy, or have blood in it. If you do spot any of these symptoms, make sure you speak to your vet as soon as possible. If your vet does recommend Royal Canin Dalmatian, make sure you check the feeding guide so they get the right amount.
Key benefits
lots of protein means that bladder stones can't form as easily
rich in taurine, which helps keep your dog's heart strong
protects your dog's skin, which makes their coat soft and shiny.
How it works
As bladder stones are more common in Dalmatians, this food uses special proteins that help to stop them forming. Bladder stones are actually made from lots of little crystals, so the proteins in the food prevent these crystals clumping together.
Your Dalmatians beautiful coat is one of things that makes them unique, and Royal Canin Dalmatian helps to protect your dog's skin and fur, too. The food has lots of fatty acids, and these make your dog's coat shiny, soft, and great to stroke!
Taurine, another special ingredient, helps to keep your dog's heart healthy. This means you can enjoy loads of runs in the park, or energetic games of fetch. Taurine also helps keep your dog's eyes healthy – killing two birds with one stone.
Ingredients
COMPOSITION: rice, maize flour, vegetable protein isolate*, animal fats, egg powder, wheat flour, maize gluten, minerals, vegetable fibres, hydrolysed animal proteins, fish oil, soya oil, green tea and grape extracts (source of polyphenols), marigold extract (source of lutein), hydrolysed crustaceans (source of glucosamine), hydrolysed cartilage (source of chondroitin).

ADDITIVES (per kg): Nutritional additives: Vitamin A: 22500 IU, Vitamin D3: 700 IU, E1 (Iron): 42 mg, E2 (Iodine): 3.3 mg, E4 (Copper): 7 mg, E5 (Manganese): 67 mg, E6 (Zinc): 209 mg, E8 (Selenium): 0.12 mg - Technological additives: Pentasodium triphosphate: 3.5 g - Preservatives - Antioxidants.

ANALYTICAL CONSTITUENTS: Protein: 22% - Fat content: 18% - Crude ash: 6.4% - Crude fibres: 2.8%. *L.I.P.: protein selected for its very high assimilation.
Dosage
Recommended daily quantities (g/day):
Adult weight

20kg

22kg

24kg

26kg

28kg

30kg

32kg

34kg

36kg

No exercise

260g

2+5/8 cup

280g

2+7/8 cup

300g

3 cup

315g

3+2/8 cup

335g

3+3/8 cup

350g

3+4/8 cup

370g

3+6/8 cup

385g

3+7/8 cup

400g

4+1/8 cup

Exercice

< 1 hr/day

290g

3 cup

310g

3+1/8 cup

330g

3+3/8 cup

350g

3+4/8 cup

370g

3+6/8 cup

390g

4 cup

410g

4+1/8 cup

430g

4+3/8 cup

445g

4+4/8 cup

Exercice

> 1 hr/day

320g

3+2/8 cup

345g

3+4/8 cup

365g

3+6/8 cup

385g

3+7/8 cup

410g

4+1/8 cup

430g

4+3/8 cup

450g

4+5/8 cup

470g

4+6/8 cup

490g

5 cup
Water should be available at all times




Customer reviews
Product reviews are filtered by language.
The following reviews are available in English.
Delicious !!

My Dalmation loves this food.

Royal Canin.

Having had four Dalmatians in the passed that all had health problems, the breeder of the Dalmatian we have now recommended Royal Canin when we collected him as a puppy. We have not had any of the normal Dalmatian health problems with him, touch wood. Oh I should also say, that his breeder is an international dog show judge for Dalmatians.

For stone formers

My boy is a stone former but no problems at all on this food.

Hi All, My Dalmation is so much better over the last few weeks after using this product. I have nearly finished the large sack and gurgling tummies are very few and far between (usually after human food treats) and her stools have no mucus in them now. For me this is a great success and she is a much more settled dog now after she has eaten. One thing this food does NOT help..... she still moults little white needles for 53 weeks of the year !!!! Good job we love her ;-)

I have just ordered this product as I have a dalmation who suffers with both colitis and bladder crystals. The bladder crystals are being treated by my vet by the administering of Allopurinol daily. The colitis is still trial and error. She is currently fed on James Wellbeloved cereal free kibble but is still very 'windy' and has a very gurgling tummy. Once I have introduced the food gradually, I will report back again through the reviews to update on her progress with the new food. Watch this space!