Skip to content
Skip to navigation menu
Royal Canin Feline Urinary S/O Moderate Calorie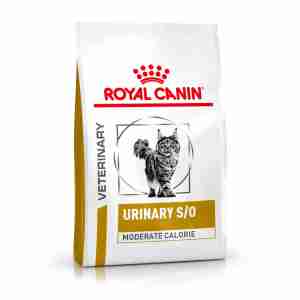 Rollover image to zoom
Product details
Royal Canin Feline Urinary S/O Moderate Calorie is designed to dissolve kidney stones, and stop them from coming back.
What it's for
Kidney stones are formed when some of the minerals in your cat's food, like calcium, slowly clump together. This normally happens in places like the kidney or bladder. If the clumps get big enough they can turn into kidney stones. These can be really uncomfortable for your cat, and make it hard for them to go to the toilet.
It's quite tricky to spot if your cat has kidney stones too, because cats tend to go to the loo in private. If you can though, look out for cloudy wee, or blood when they go to the toilet. If you see either of these make sure you go to your vet straight away.
A food like Royal Canin Feline Urinary S/O Moderate Calorie can break down any kidney stones, as well as help to stop them coming back. It's also packed full of goodness so your cat can enjoy a happy, active, and fun life.
The right diet really important for any pet, so always speak to your vet before feeding Royal Canin Feline Urinary S/O Moderate Calorie to your cat.
Key benefits
helps to dissolve kidney and bladder stones
can prevent stones forming
packed full of nutrients to repair and support your cat's bladder and kidneys
healthy, with moderate calories so your cat stays at a healthy weight.
How it works
This food carefully controls the amount of minerals your cat eats, which means it can prevent kidney or bladder stones from forming. The special mix of vitamins and nutrients also dissolve any stones your cat might already have.
The food contains plenty of fatty acids and antioxidants. Both of these ingredients can boost your cat's bladder health, so it's easy and painless for them to go to the toilet. Antioxidants also keep your cat's immune system strong. It's great for keeping your cat in shape, as the calorie count of the food is carefully balanced.
Royal Canin clinical diets are formulated for the nutritional support of dogs and cats with specific clinical conditions and are designed to be used under the advice of your veterinarian. Veterinary diets are formulated for the nutritional support of cats with specific clinical conditions and are recommended to be used under veterinary advice. For more information on feeding Royal Canin veterinary pet food to your cat, please consult your veterinary surgeon prior to purchasing online from PET SUPERMARKET.
No prescription is required to purchase Royal Canin Veterinary Diet Cat Food from PET SUPERMARKET.
Ingredients
Dehydrated poultry meat, rice, wheat gluten***, vegetable fibre, maize flour, maize gluten, animals fat, minerals, hydrolysed animal proteins, fish oil, soya oil, Fructo-Oligo-Saccharides (F. O. S. ), egg powder, DL-methio-nine, hydrolysed crustaceans (source of glucosamine), taurine, L-carnitine. ***LIP (Low Indigestible Protein): protein selected because of its very high assimilation.
Customer reviews
Product reviews are filtered by language.
The following reviews are available in English.
English

Cats love this food no more vet fees!!

Excellent

This has been the only food since my cat was a year old, he is now 12

Feed back

Easy to order. Great value for money and arrived quickly. Cannot fault your service

Cat loves it

Since my cat has been eating royal canin he has not seen the vet once,before that he was always in and out

Excellent product

Been buying this product for a few years for my cat after he developed urinary problems and a blocked bladder. Since giving him this along with Cystease and he has been sympton free!Fingers crossed! So happy! Saved many vet visits and reduced the stress for both of us.....extremely happy with this product! Well worth it and a great price on Medic animal. It's also great that Royal Canin make this as a moderate calorie food....this has also helped keep his weight down which is another important factor in keeping him symptom free.