Skip to content
Skip to navigation menu
Royal Canin Gastro Intestinal Adult Dog Food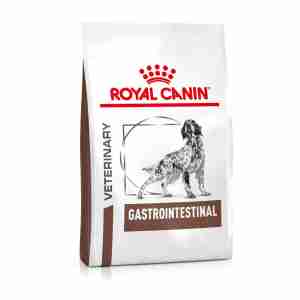 Rollover image to zoom
Product details
AWAITING REPLENISHMENT. ALTERNATIVES CLICK HERE
Royal Canin Canine Gastro Intestinal has been specially formulated to ease the symptoms of gastrointestinal disorders and help your dog recover from their effects.
How it works
The food uses only highly digestible ingredients, meaning it's gentle on your dog's digestive system whilst still delivering all the nutrients it needs. Because each serving is high in energy, you can feed your dog less often and ease the strain on its digestion without leaving it hungry. This high energy content also makes it easier for your dog to regain any weight it may have lost as a result of its condition.
High quality fibre is important for good digestion, so the food uses fermentable beet pulp to help create an ideal environment for healthy gut bacteria. The right level of bacteria in your dog's system will help to stabilise its gut and protect against the recurrence of digestive issues.
It's common for dogs with gastrointestinal issues to lose their appetites, so with this in mind, the food has been created to taste and smell as irresistible as possible.
Key benefits
highly digestible ingredients ease digestive workload and provide nutrients
high energy content promotes weight gain
quality fibre encourages growth of healthy gut bacteria
suitable for short or long term feeding
great taste to reduce effects of appetite loss.
When to use it
The first signs that your dog is suffering from a gastrointestinal issue are likely to include vomiting, diarrhoea and loss of appetite. Your first step after noticing any new symptoms in your pet should be to make an appointment with your vet. Digestive issues can have a number of causes, so it's important to gain an expert opinion and diagnosis as soon as possible.
Gastrointestinal issues can occur in dogs of any age and may not have any obvious cause. Common illnesses associated with digestive symptoms include IBD (inflammatory bowel disease), colitis, gastritis and EPI (exocrine pancreatic insufficiency). Depending on the diagnosis, your vet might suggest further tests or medication. Alongside this, nearly all gastrointestinal problems can be treated to some extent through a temporary or permanent change of diet.
Because veterinary diets are formulated for the nutritional support of pets with specific clinical conditions, we recommend that you only use them under professional advice. For more information on feeding Royal Canin Canine Gastro Intestinal to your dog, please consult your veterinary surgeon.
Ingredients
Royal Canin Canine Veterinary Diet Sensitivity Control Sc 21
Dry - dehydrated duck meat, hydrolysed poultry proteins, vegetable fibres, animal fats, beet pulp, fish oil, soya oil, psyllium husks and seeds, minerals, fructo-oligo-saccharides (FOS), marigold extract (source of lutein).
Duck & Rice Cans - Duck Meat, Rice, Fish Oil, Sunflower Oil, Cellulose Fibre, marigold extract (rich in lutein), Fructo-Oligo_Saccharides(FOS), trace elements (including chelated trace elements), vitamins.
Chicken Cans - Chicken meat, chicken liver, rice, fish oil, sunflower oil, cellulose fibre, minerals, taurine, Fructo-Oligo_Saccharides(FOS), marigold extract (rich in lutein), trace elements (including chelated trace elements), vitamins.
Feeding Guide
Feeding guide:
Weight (kg)
Lean
Normal
Overweight
(g / day)
Cup / day
(g / day)
Cup / day
(g / day)
Cup / day
2 kg
52 g
4/8 cup
45 g
4/8 cup
39 g
3/8 cup
4 kg
87 g
7/8 cup
76 g
6/8 cup
66 g
6/8 cup
6 kg
118 g
1 + 2/8 cup
104 g
1 + 1/8 cup
89 g
7/8 cup
8 kg
146 g
1 + 4/8 cup
128 g
1 + 3/8 cup
111 g
1 + 1/8 cup
10 kg
173 g
1 + 6/8 cup
152 g
1 + 5/8 cup
131 g
1 + 3/8 cup
15 kg
234 g
2 + 4/8 cup
206 g
2 + 1/8 cup
178 g
1 + 7/8 cup
20 kg
290 g
3 cup
255 g
2 + 5/8 cup
221 g
2 + 2/8 cup
25 kg
343 g
3 + 5/8 cup
302 g
3 + 1/8 cup
261 g
2 + 6/8 cup
30 kg
393 g
4 + 1/8 cup
346 g
3 + 5/8 cup
299 g
3 + 1/8 cup
35 kg
442 g
4 + 5/8 cup
389 g
4 cup
336 g
3 + 4/8 cup
40 kg
488 g
5 + 1/8 cup
429 g
4 + 4/8 cup
371 g
3 + 7/8 cup
50 kg
577 g
6 cup
508 g
5 + 2/8 cup
438 g
4 + 5/8 cup
60 kg
661 g
6 + 7/8 cup
582 g
6 + 1/8 cup
503 g
5 + 2/8 cup
70 kg
743 g
7 + 6/8 cup
653 g
6 + 6/8 cup
564 g
5 + 7/8 cup
80 kg
821 g
8 + 4/8 cup
722 g
7 + 4/8 cup
624 g
6 + 4/8 cup
Customer reviews
Product reviews are filtered by language.
The following reviews are available in English.
Royal canine

My male ridge back loves this food, also a bit cheaper than other outlets, and fast delivery, been using pet supermarket for 3 years now, won't change,

A lifeline in dog food

The quality of this food is outstanding. My German Shepherd has now been on this for 6 years. His stomach issues were severe. Now in great health. Always first class service from Medicanimal.

Royal Canin Gastro Intestinal

Our Bichon developed a runny tummy this cured it in an instant, mix the wet with dry it works a treat

Royal Canin Canine Gastro intestinal

Brilliant dog food the best for a Gastro problem makes my dog healthy and fit for your loved one

Fantastic product

I've been feeding this to my dogs for years! It's taken care of their digestive issues brilliantly!