Skip to content
Skip to navigation menu
Royal Canin Gastro Intestinal Adult Dry Dog Food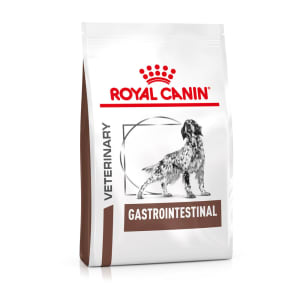 Product details
Feed your dog Royal Canin Canine Gastro Intestinal to soothe their tummy and help them recover from stomach upsets.
What it's for
If you've noticed your dog being sick or having diarrhoea, or if they don't seem as keen on their food as usual, they might be suffering from a stomach upset. These can have many causes, so your vet should be your first stop for treatment and advice.
Dogs of any age can have issues with their tummies, and a lot of the time these are easy to treat. Some illnesses your vet might look for are IBD (inflammatory bowel disease), colitis, gastritis and EPI (exocrine pancreatic insufficiency). Depending on your dog's symptoms, the vet might want to do some tests on your dog, or give them some medicine to take. A change of diet will probably help your dog feel a lot better too.
Key benefits
ingredients are easy for your dog's tummy to digest and are full of vitamins and minerals
designed to help your dog put on weight they've lost by being ill
lots of fibre helps healthy bacteria grow in your dog's tummy
can be used for a few weeks, or forever
tastes so good your dog won't be able to resist it.
How it works
The more food your dog eats, the more work their tummy has to do to digest it. To make things easier for a poorly tummy, this food packs lots of energy into a small portion, meaning that your dog won't need to eat as much to get everything they need. All that energy will also help your dog put on any weight they lost when they were ill.
Every ingredient in the food is super easy to digest, so you should notice your dog's tummy feeling a lot better quite quickly. To make digestion even easier, the food contains plenty of fibre. This makes it easy for healthy bacteria to grow in your dog's tummy, where they'll help protect them against getting ill again.
If your dog's turned from a hungry hound into a picky pup who turns their nose up at dinner, don't despair. This food has been made to smell and taste so delicious that they won't be able to resist it.
Veterinary diets like this one have been specially made to support pets with specific medical conditions. Because of this, they might not be suitable for all pets, so we'd recommend getting professional advice before feeding them to your pet. If you think your dog could benefit from eating Royal Canin Canine Gastro Intestinal, why not have a chat with your vet?
Sensitivity Control is for the nutritional management of:
- Food elimination trial
- Food allergies with dermatological and/or gastrointestinal signs
- Food intolerance
- Inflammatory Bowel Disease
- Diarrhoea in adult dogs and puppies
- Colitis
Not recommended in cases of:
-Pancreatis
Ingredients
Royal Canin Canine Veterinary Diet Sensitivity Control Sc 21
Dry - dehydrated duck meat, hydrolysed poultry proteins, vegetable fibres, animal fats, beet pulp, fish oil, soya oil, psyllium husks and seeds, minerals, fructo-oligo-saccharides (FOS), marigold extract (source of lutein).
Duck & Rice Cans - Duck Meat, Rice, Fish Oil, Sunflower Oil, Cellulose Fibre, marigold extract (rich in lutein), Fructo-Oligo_Saccharides(FOS), trace elements (including chelated trace elements), vitamins.
Chicken Cans - Chicken meat, chicken liver, rice, fish oil, sunflower oil, cellulose fibre, minerals, taurine, Fructo-Oligo_Saccharides(FOS), marigold extract (rich in lutein), trace elements (including chelated trace elements), vitamins.
Customer reviews
Product reviews are filtered by language.
The following reviews are available in English.
Royal canine

My male ridge back loves this food, also a bit cheaper than other outlets, and fast delivery, been using pet supermarket for 3 years now, won't change,

A lifeline in dog food

The quality of this food is outstanding. My German Shepherd has now been on this for 6 years. His stomach issues were severe. Now in great health. Always first class service from Medicanimal.

Royal Canin Gastro Intestinal

Our Bichon developed a runny tummy this cured it in an instant, mix the wet with dry it works a treat

Royal Canin Canine Gastro intestinal

Brilliant dog food the best for a Gastro problem makes my dog healthy and fit for your loved one

Fantastic product

I've been feeding this to my dogs for years! It's taken care of their digestive issues brilliantly!