Skip to content
Skip to navigation menu
You have setup the following Repeat Order: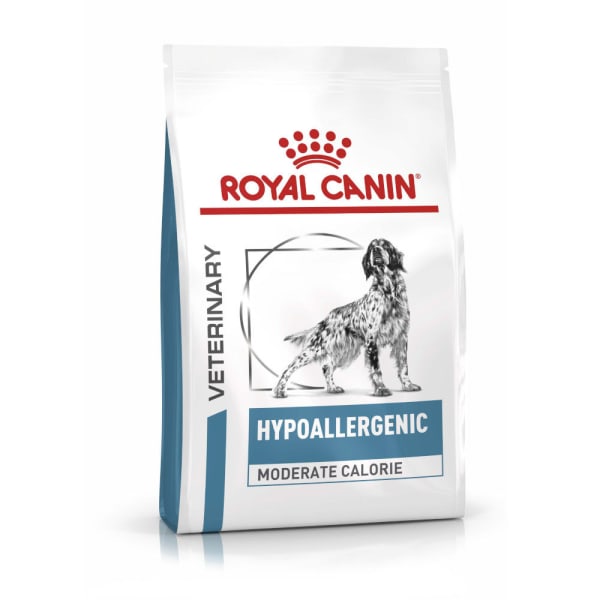 Royal Canin Hypoallergenic Moderate Calorie Adult Dry Dog Food
Royal Canin Hypoallergenic Moderate Calorie Adult Dry Dog Food
Royal Canin Hypoallergenic Moderate Calorie Adult Dry Dog Food
Back in stock notification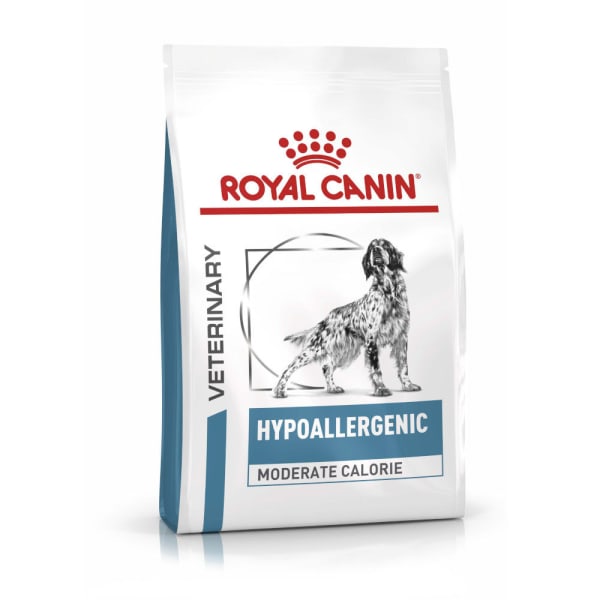 Royal Canin Hypoallergenic Moderate Calorie Adult Dry Dog Food
Royal Canin Hypoallergenic Moderate Calorie Adult Dry Dog Food
Enter your name and email address below then select which items you would like to be notified of when available.
Product details
Royal Canin Canine Hypoallergenic Moderate Calorie HME 23 uses specially chosen proteins and carbohydrates to help ease the symptoms of your dog's food intolerances.
What it's for
Food intolerances and allergies are no walk in the park for your pup. Allergies can be caused by the digestive system accidentally absorbing food that hasn't been broken down properly. This sends your dog's immune system into high alert, causing symptoms like itchiness, inflammation and sore red skin.
An intolerance is different to an allergy; your dog's system just can't process certain types of food. Symptoms of intolerance are a bit more noticeable, with sickness and diarrhoea after eating. Beef, wheat and dairy are the most common causes of food intolerance in dogs.
Royal Canin Canine Hypoallergenic Moderate Calorie HME 23 is great for poorly pooches with allergies and intolerances. It uses soya proteins that are already broken down instead of the usual animal proteins. Remember: scratching, inflamed skin, sickness and diarrhoea can be symptoms of other more serious health problems. It's important to always speak to your vet if your pup is poorly.
Key benefits
easy-to-digest proteins make allergic reactions and inflammation less likely
lots of fatty acids help to move proteins around your dog's body more effectively
balanced calorie content keeps weight healthy
added phosphorus boosts the kidneys
includes Royal Canin's patented complex, which protects the skin's natural barrier effect.
How it works
This food is made with proteins that have already been broken down into small parts. Your dog's digestive system has less work to do and there's less chance of an allergic reaction. The food is also high in fatty acids, which transport the protein around your dog's body to where it needs to go. It also contains small amounts of phosphorus. This level of the mineral is just right – it helps and supports kidney health without overloading your dog's system. Added nutrients help to strengthen your dog's skin and its natural barrier, making it more difficult for infections and irritation to take hold. The balanced calorie levels help them to maintain their ideal weight, avoiding future issues with obesity and joint health.
Veterinary diets like this one have been specially made to support pets with specific medical conditions. Because of this, they might not be suitable for all pets, so we'd recommend getting professional advice before feeding them to your pet. If you think your dog could benefit from eating Royal Canin Canine Hypoallergenic Moderate Calorie HME 23, why not have a chat with your vet?
Hypoallergenic is for the nutritional support of dogs in cases of:
Food elimination trial
Food allergies with dermatological and/or gastrointestinal signs
Food intolerance
Inflammatory Bowel Disease
Exocrine Pancreatic Insufficiency (EPI)
Chronic diarrhoea
Bacterial overgrowth
Not recommended in cases of:
Pancreatitis or history of pancreatitis
Hyperlipidaemia
Ingredients
Royal Canin Canine Veterinary Diet Hypoallergenic Small Dog Hds 24
Rice, hydrolysed soya protein isolate, animal fats, minerals, hydrolysed poultry liver, beet pulp, vegetable oils (soya and borage), fish oil, Fructo-Oligo-Saccharides (FOS), taurine, marigold extract (source of lutein).
Feeding Guide
Target Adult Weight (kg)
Lean
Normal
Overweight
(g / day)
Cup / day
(g / day)
Cup / day
(g / day)
Cup / day
2
50
5/8 cup
45
4/8 cup
36
3/8 cup
4
84
1 cup
73
7/8 cup
61
6/8 cup
5
100
1+1/8 cup
85
1 cup
72
7/8 cup
6
114
1+2/8 cup
98
1+1/8 cup
83
1 cup
8
141
1+5/8 cup
122
1+3/8 cup
103
1+1/8 cup
10
165
1+7/8 cup
145
1+5/8 cup
121
1+3/8 cup
15
225
2+5/8 cup
195
2+2/8 cup
165
1+7/8 cup
20
280
3+2/8 cup
240
2+6/8 cup
204
2+3/8 cup
25
332
3+6/8 cup
287
3+2/8 cup
241
2+6/8 cup
30
380
4+3/8 cup
330
3+6/8 cup
277
3+1/8 cup
35
427
4+7/8 cup
369
4+2/8 cup
311
3+4/8 cup
40
470
5+3/8 cup
410
4+5/8 cup
343
3+7/8 cup
45
516
5+7/8 cup
445
5+1/8 cup
375
4+2/8 cup
50
558
6+3/8 cup
482
5+4/8 cup
406
4+5/8 cup
55
599
6+7/8 cup
518
5+7/8 cup
436
5 cup
60
640
7+2/8 cup
553
6+3/8 cup
465
5+2/8 cup
65
679
7+6/8 cup
587
6+6/8 cup
494
5+5/8 cup
70
718
8+2/8 cup
620
7+1/8 cup
522
6 cup
75
756
8+5/8 cup
653
7+4/8 cup
550
6+2/8 cup
80
794
9+1/8 cup
686
7+7/8 cup
577
6+5/8 cup
Customer reviews
Product reviews are filtered by language.
The following reviews are available in English.
Keeps our labradoodle's IBD under control

This is an excellent food, which our labradoodle enjoys. Much as I would love to have him on a more natural hypoallergenic food, he can't eat too much regular food without very loose poops. RC hypoallergenic keeps his IBD under control. He was starting to look a bit on the chubby side, but the moderate calorie helps him to keep his waistline. :)

Excellent first order with Fetch

Ordered on Sunday, delivered the following day. How's that for service!!!!! Tinned food also ordered at the same time - some of the tins were slightly damaged. This needs to be sorted.

Exellent product for my dog who has allergies

excellent product for my dog who has allergies . after many trials this product is the best

superb quality food

This product was recommended by the animal hospital some time ago. We have seen a steady improvement in our dog. If recommended I would certainly say give it a try. It may seem expensive but well worth the money if it helps.

So good for allergies

My dog has always been a poorly girl. You name it and she's probably had it! We've gone from one food to another but have found this one to be very successful regarding her allergies to practically everything she's eaten in the past! AND she loves the taste.