Skip to content
Skip to navigation menu
Royal Canin Hypoallergenic Moderate Calorie Adult Dry Dog Food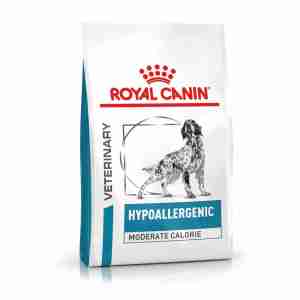 Rollover image to zoom
Product details
Royal Canin Canine Hypoallergenic Moderate Calorie HME 23 uses specially chosen proteins and carbohydrates to help ease the symptoms of your dog's food intolerances.
What it's for
Food intolerances and allergies are no walk in the park for your pup. Allergies can be caused by the digestive system accidentally absorbing food that hasn't been broken down properly. This sends your dog's immune system into high alert, causing symptoms like itchiness, inflammation and sore red skin.
An intolerance is different to an allergy; your dog's system just can't process certain types of food. Symptoms of intolerance are a bit more noticeable, with sickness and diarrhoea after eating. Beef, wheat and dairy are the most common causes of food intolerance in dogs.
Royal Canin Canine Hypoallergenic Moderate Calorie HME 23 is great for poorly pooches with allergies and intolerances. It uses soya proteins that are already broken down instead of the usual animal proteins. Remember: scratching, inflamed skin, sickness and diarrhoea can be symptoms of other more serious health problems. It's important to always speak to your vet if your pup is poorly.
Key benefits
easy-to-digest proteins make allergic reactions and inflammation less likely
lots of fatty acids help to move proteins around your dog's body more effectively
balanced calorie content keeps weight healthy
added phosphorus boosts the kidneys
includes Royal Canin's patented complex, which protects the skin's natural barrier effect.
How it works
This food is made with proteins that have already been broken down into small parts. Your dog's digestive system has less work to do and there's less chance of an allergic reaction. The food is also high in fatty acids, which transport the protein around your dog's body to where it needs to go. It also contains small amounts of phosphorus. This level of the mineral is just right – it helps and supports kidney health without overloading your dog's system. Added nutrients help to strengthen your dog's skin and its natural barrier, making it more difficult for infections and irritation to take hold. The balanced calorie levels help them to maintain their ideal weight, avoiding future issues with obesity and joint health.
Veterinary diets like this one have been specially made to support pets with specific medical conditions. Because of this, they might not be suitable for all pets, so we'd recommend getting professional advice before feeding them to your pet. If you think your dog could benefit from eating Royal Canin Canine Hypoallergenic Moderate Calorie HME 23, why not have a chat with your vet?
Hypoallergenic is for the nutritional support of dogs in cases of:
Food elimination trial
Food allergies with dermatological and/or gastrointestinal signs
Food intolerance
Inflammatory Bowel Disease
Exocrine Pancreatic Insufficiency (EPI)
Chronic diarrhoea
Bacterial overgrowth
Not recommended in cases of:
Pancreatitis or history of pancreatitis
Hyperlipidaemia
Customer reviews
Product reviews are filtered by language.
The following reviews are available in English.
Very reliable

I always get my Royal Canin dog food from you and have been very happy with it. The food is delivered free within a few days of your buying. Thank you.

Best for my dog

Recommended by my Vet as my dog has many food and skin allergies. Have purchased from this site for a few years. Best food and good service.

Don't try the rest -this is the best!!

Best for price. Best for customer service. Best for delivery - usually within two-three days. Best for discounts - I got 25% off my last order as I am a regular buyer. Also Louis loves it.

Great service and product

Always order my dog's food from this site. Delivered promptly and good price

Doggy food

Excellent service , cheaper than other retailers