Skip to content
Skip to navigation menu
You have setup the following Repeat Order: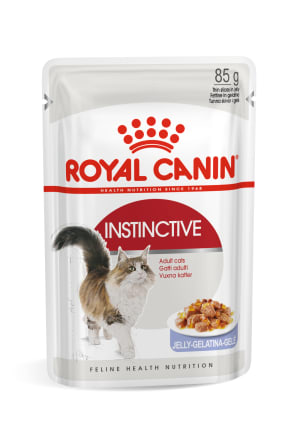 Royal Canin Instinctive Adult Wet Cat Food - Jelly
Product details
Royal Canin Instinctive in Gravy and jelly are formulated to match the optimal Macro Nutritional Profile instinctively preferred by adult cats. With carefully selected nutrients included for optimal palatability, the end product is a dish that your cat simply won't be able to resist.
It is hugely important when choosing your cats food that it is what your cats instinctively desires. Choosing the right food for your cat is essential in supporting a healthy lifestyle, and the benefit of your cat enjoying its food makes it all the better.
The large amount of vitamins, minerals and amino acids have been included to support bone maintain general health. The food has been tailored made to easy to digest as well as being instinctively edible.
Royal Canin Instinctive in Gravy contains an optimal level of fat content for provision of energy levels as well as providing support to your cat's urinary system.
Additionally, the fibre blend and protein contributes to the feeling of being full, this ensures that your cat will feel fuller for longer.
Product Benefits
Includes vast amounts of minerals and amino acids
Highly digestible
Nutritionally balanced food
Supports a healthy urinary system
Supports a healthy lifestyle
Ingredients
Additional Information
| Age (Months) | Kitten Weight | Pouch | 1 pouch + g KITTEN 36 dry |
| --- | --- | --- | --- |
| 1 | 350 - 600g | 1 1/2 - 2 | Oct-25 |
| 2 | 800g - 1,2 kg | 2 - 2 1/2 | 20-30 |
| 3 | 1,4 - 2,1 kg | 2 1/2 - 3 | 30-50 |
| 4 | 1,8 - 2,75kg | 2 1/2 - 3 1/2 | 35-55 |
| 6 | 2,4 - 3,9kg | 2 1/2 - 3 1/2 | 35-60 |
| 9-12 | 2,9 - 5kg | 2 1/2 - 3 1/2 | 35-60 |
| Gestating queen | 3kg | 2 1/2 - 3 1/2 | 30-60 |
Feeding Guide