Skip to content
Skip to navigation menu
You have setup the following Repeat Order: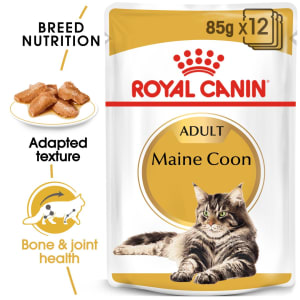 Royal Canin Maine Coon Adult Cat Wet Food in Gravy
Product details
Royal Canin Maine Coon is a complete cat food designed specifically for Maine Coon cats aged 15 months and older.
Designed by Royal Canin's nutritionists with input from breeders, this food meets the unique nutritional requirements of purebred Maine Coons. The king sized kibble shape is bigger than regular cat food kibbles to encourage crunching, which is great for keeping teeth clean. The shape was also designed with the cat's larger (and squarer) jaw shape in mind. As Maine Coons are prone to joint and bone problems, this recipe was formulated to support bone and joint health to keep your cat active and healthy. The recipe is also designed to maintain heart muscle tone and to keep your pet's skin and coat healthy and shiny. The food is nutritionally complete and has all the vitamins your Maine Coon needs for a healthy life.
Key benefits
designed specifically for Maine Coons
larger kibble shape for larger, squarer jaws
enriched with taurine DHA and EPA (omega-3 fatty acids)
promotes heart health
promotes skin and coat health
for cats aged 15 months and older
nutritionally complete.
If your cat is younger than 15 months, we recommend starting them on Royal Canin Maine Coon Kitten.
Ingredients
Additional Information
(kg)

Tendency to be overweight

Ideal body condition

Too thin

3 kg

-

42 g

50 g

4 kg

-

52 g

62 g

5 kg

48 g

60 g

73 g

6 kg

55 g

69 g

83 g

7 kg

61 g

77 g

92 g

8 kg

68 g

85 g

-

9 kg

73 g

92 g

-

10 kg

79 g

-

-

! If overweight, reduce feeding quantity !





Water should be available at all times

We remind you of the necessity of watching your cat's body condition, and regular visits to your veterinary
Feeding Guide