Skip to content
Skip to navigation menu
Royal Canin Neutered Adult Small Dog Dry Food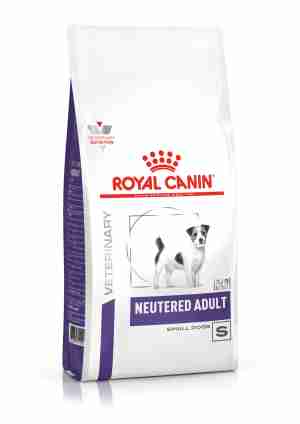 Rollover image to zoom
Product details
Royal Canin Canine Neutered Adult Small Dog is a food specifically designed for the health needs of neutered small dogs.
What it's for
Once your dog's been neutered, you'll notice a few changes in their behaviour. One of the first things you'll notice is that they'll be less active. Because neutered dogs aren't quite as active as non-neutered dogs, they don't need the same amount of calories in their food — all that extra energy just gets stored as fat, which isn't the best news for their health. Overweight dogs often struggle with joint problems or diabetes.
If you think that your dog's overweight, try these two tests: first stroke the sides of your dog. You should be able to feel their ribs under a layer of fat. If you can't feel them, your dog might be overweight. Or, look at your dog from above. They should have a visible waist – if not, they could be overweight. Talk to your vet if you think that your dog's having trouble managing their weight. They might advise you to switch their food to a special neutered diet to get them back down to a healthy weight.
Key benefits
made to a delicious low-calorie recipe that satisfies your dog's need for energy, without making them overweight
prebiotics help your dog to digest the food
packed with nutrients that discourage tartar build up on your dog's teeth.
How it works
Royal Canin Canine Neutered Adult Small Dog has been developed to help give your dog all the energy it needs without loading them with extra calories. It uses a special low calorie recipe to reduce weight gain. Even better, this helps to keep your dog feeling fuller for longer, so they don't go off on a naughty hunt for a mid-afternoon snack!
The food also has lots of useful prebiotics, which help your dog digest their dinner much more easily (no more upset stomachs!). Specially chosen nutrients help stop nasty tartar building up on your pet's teeth – helping them keep that gleaming, healthy smile.
Veterinary diets like this one have been specially made to support pets with specific medical conditions. Because of this, they might not be suitable for all pets, so we'd recommend getting professional advice before feeding them to your pet. If you think your dog could benefit from eating Royal Canin Canine Neutered Adult Small Dog, why not have a chat with your vet?
Customer reviews
Product reviews are filtered by language.
The following reviews are available in English.
Royal canin

My Chihuahuas love this food keeps them happy and healthy

Great food. Great service

My dads dog has to have this food. With my VIP discount price is brilliant and love Pet Supermarket for rewarding their customers. Deliver always excellent and speedy. A great company to deal with who never let you down

Great value

I've been buying this product from another pet chain for the last 2 & half years but they have recently put there prices up very high!! Pet supermarket offer a much better & competitive price

Top product

My Wire Fox Terrier is 8.5yrs old and has never had any other dog food than Royal Canin. She just loves it. On ordering I received prompt and efficient service from Medical Animal.

making a purchase

when buying any product from petsupermarket you can be confident that your pet is getting a genuine product.