Skip to content
Skip to navigation menu
Royal Canin Skin & Coat Formula Adult Wet Cat Food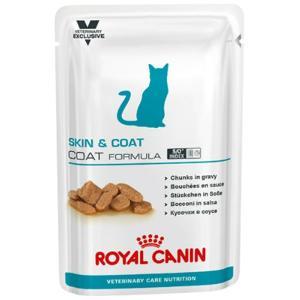 Product details
Royal Canin Feline Skin and Coat contains a special mix of vitamins, protein and fatty acids to help soothe sensitive skin from the inside out.
What it's for
The special ingredients in this food help to ease the itchy and irritating symptoms of skin sensitivity. The recipe contains lots of essential fatty acids, including EPA and DHA, which moisturise skin and encourage healthy new hairs to grow. A special combination of minerals, vitamins, proteins and essential fatty acids works to trap moisture in the skin, creating a barrier from the allergens that could cause itching.
When you're introducing a new food to your pet's diet, it's best to do it gradually. Mix a bit of this tasty wet food in with their usual dinner to avoid upset tummies (and appetites).
Key benefits
contains zinc, magnesium and vitamin D to help strengthen bones and teeth
DHA omega oils and EPA help to brighten up a dull coat
essential fatty acids protect skin from allergens and work as a moisturiser
packed with high-quality and tasty proteins
contains a special mix of vitamins, fatty acids and protein to boost the skin's natural barrier
When to use it
Skin sensitivity is an itchy (and irritating) problem for adult cats and can be caused by lots of things, from biting bugs to food allergies. Signs that your pet is suffering from sensitivity can include scratching more often, a dull coat and inflamed patches of skin. If you notice these symptoms, take them to the vet for a quick checkup to rule out any other causes.
If skin sensitivity is the issue, feeding your cat Royal Canin Feline Skin and Coat can help to reduce some of the painful symptoms. It's nutritionally complete, so can be fed to your cat at mealtimes in place of their regular food for life.
Ingredients
Composition:
meat and animal derivatives, fish and fish derivatives, cereals, derivatives of vegetable origin, vegetable protein extracts, minerals, yeasts, various sugars.

ADDITIVES (per kg):
Nutritional additives: Vitamin D3: 275 IU, E1 (Iron): 10 mg, E5 (Manganese): 3.1 mg, E6 (Zinc): 31 mg - Technological additives: Pentasodium triphosphate: 1 g.

ANALYTICAL CONSTITUENTS:
Protein: 10% - Fat content: 4% - Crude ash: 1.5% - Crude fibres: 1.5% - Moisture: 79%.
Dosage
Recommended daily quantities (g/day):
Body

Weighta

overweight

normal

lean

(g)

Cup

(g )

cup

(g)

cup

2

115

1 1/4

145

1 1/2

175

1 3/4

3

155

1 1/2

195

2

230

2 1/4

4

190

2

235

2 1/4

285

2 3/4

5

220

2 1/4

275

2 3/4

330

3 1/4

6

250

2 1/2

315

3 1/4

380

3 3/4

7

280

2 3/4

350

3 1/2

420

4 1/4

8

310

3

385

3 3/4

465

4 3/4

9

335

3 1/4

420

4 1/4

505

5

10

365

3 3/4

455

Customer reviews

Product reviews are filtered by language.
The following reviews are available in English.

My Somali girl has shed her coat dramatically since I rescued her nine months ago. Sometimes I felt I had stripped nearly all her coat out grooming her and her tail plume became a sad thing. She was not very keen on the Royal Canin Sensitivity hard food I gave her to supplement her Royal Canin wet d