Skip to content
Skip to navigation menu
Royal Canin VHN Urinary Moderate Calorie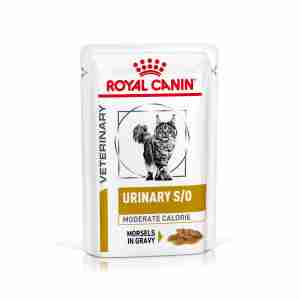 Rollover image to zoom
Product details
Notes:
The wet version of Urinary S/O Feline is recommended for recurrent idiopathic cystitis.
In older cats, renal function should be checked before Urinary S/O Moderate Calorie is fed.
5 to 12 weeks of dietary support are required to dissolve struvite uroliths. To avoid recurrence, the diet should be fed for a further 6 months minimum, followed by urinalysis. Once the cat has been successfully managed, it can be maintained on Urinary S/O Moderate Calorie or one of the following diets can be recommended:
Obesity Management or Satiety for an overweight cat, or a diet from the Neutered Feline range for a normal weight cat.
Urinary Moderate Calorie is for the nutritional support of cats in cases of:
- Dissolution of struvite uroliths
- Reduction of recurrent struvite and calcium oxalate urolithiasis using a single diet.
Note: In cases of recurrent idiopathic cystitis, Urinary Wet is recommended. In older cats, renal function should be checked before Urinary S/O Moderate Calorie is fed.
Not recommended in cases of:
- Pregnancy, lactation, growth
- Chronic renal failure, metabolic acidosis
- Heart failure
- Hypertension
- Use of urine-acidifying drugs
Features:
Urinary S/O Feline effectively dissolves struvite stones.
Diluting urine decreases the urinary concentration of struvites and calcium oxalates. The larger urinary volume also ensures regular bladder wash-out.
The reduced calorie content of the diet makes it possible to limit weight gain in cats with a tendency to obesity.
Glycosaminoglycans (GAG) that are naturally found on the healthy bladder mucosa but decrease in diopathic cystitis. This causes increased permeability of the bladder to bacteria, toxins and ions, resulting in bladder inflammation and stimulation of pain-sensitive receptors.
No prescription is required to purchase Royal Canin Veterinary Diet Cat Food from PET SUPERMARKET.
Ingredients
Ingredients:
Meat and animal derivatives, derivatives of vegetable origin, minerals, cereals, vegetable protein extracts, oils and fats, various sugars. Crude ash: 1.8%. Crude fibre: 1%. Crude oil fats: 3.5%. Moisture: 80%. Protein: 10%.
Additives:
Vitamin D3: 225 IU, E1 (Iron): 3 mg, E2 (Iodine): 0.25 mg, E4 (Copper): 2 mg, E5 (Manganese): 1 mg, E6 (Zinc): 10 mg, Urine acidifying substances: calcium sulfate: 0.25%. Technological additives: (acidity regulator) Sodium bisulfate: 0.5 g.
Feeding Guide
Customer reviews
Product reviews are filtered by language.
The following reviews are available in English.
royal canin

My cat loves this food especially the gravy

Great product

Asked to review this again after I reviewed it March 2014 can still say this product is excellent and both cats still love it and it has kept them alive for nearly 10 years thoug I do change from moderate calorie to ordinary occasionally and they love both equally

Excellent product

My 6 year old male cat has been on this diet for nearly 3 years now following a life threatening bout of a urinary infection and blocked urethra. Knowing how fussy cats can be, I'm very relieved and happy to say he still loves it after all this time! Price is very reasonable and service excellent each time by the Petmeds team.

Quality

My cat won't eat anything else...cheapest on this site ... vets charge too much.fab quick service too.

Quality

Quality food , service and loyalty rewards... cat loves his food and if I'm late on ordering...the cat turns her nose up at anything else. Pet supermarket have great super service