Skip to content
Skip to navigation menu
Royal Canin Veterinary Diet Feline Sensitivity Control Wet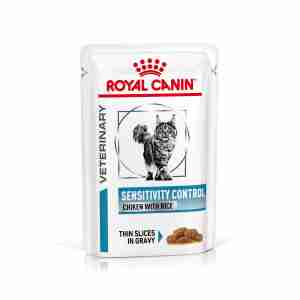 Rollover image to zoom
Product details
Royal Canin Veterinary Diet Feline Sensitivity Control can be given to cats with sensitive tummies without triggering their allergies.
When to use it
Just like us, our pets can be allergic to certain foods and can get ill if they eat them. Have you noticed your cat being sick or getting diarrhoea a lot? Perhaps they've been scratching or losing fur, even when they've just been treated for fleas? If so, it's possible that they're suffering from irritable bowel syndrome (IBS), a food intolerance, or an inflamed gut or bowel. To check out what's going on, it's important to make an appointment with your vet for a diagnosis so you can get your furry friend the right treatment.
You may well find that your vet recommends a change of diet for your cat – there's a good chance your pet won't need any further treatment.
Key benefits
main ingredients are chicken and rice, which are both tasty and easy to digest
omega-3 fatty acids are great for healthy skin
gluten and lactose free
contains fibre and vitamins for a healthy, comfortable tummy.
How it works
If your cat has a food allergy, it's most likely to be a lactose or gluten one. This food is therefore free from both and uses chicken and rice to give your pet the proteins and carbohydrates they need. As well as being delicious, these are super easy to digest, so they're perfect choices if your cat has a sensitive tummy.
To keep your cat's digestive system in tip-top condition, there are lots of healthy fibres and minerals in the food. These create an ideal environment in your cat's tummy for lots of healthy bacteria to grow.
One of the main jobs your cat's skin has is to act as a barrier to anything that might irritate them. If the skin's been damaged by allergic reactions, it might not be doing this as well as it should. To give it a boost, this food contains zinc and extra vitamins, which also reduce water loss and dehydration. Plenty of omega-3 fatty acids are great for your cat's skin and also help their fur stay soft and shiny.
Veterinary diets like this one have been specially made to support pets with specific medical conditions. Because of this, we'd recommend getting professional advice before feeding this food to your pet. If you think your cat could benefit from eating Royal Canin Veterinary Diet Feline Sensitivity Control, why not have a chat with your vet?
Ingredients
Chicken & Rice Pouch - Chicken liver, chicken meat, rice, rice protein, cellulose fibre, fish oil, sunflower oil, minerals, taurine, Fructo-Oligo-Saccharides
(FOS), DL-methionine, marigold extract (rich in lutein), trace elements (including chelated trace elements), vitamins.
Feeding Guide
Weight (kg)
Lean
Normal
Overweight
(g / day)
Pouch / day
(g / day)
Pouch / day
(g / day)
Pouch / day
2
145
1 1/2
110
1
-
-
3
215
2 1/4
170
1 3/4
-
-
4
285
2 3/4
225
2 1/4
185
1 3/4
5
355
3 1/2
280
2 3/4
230
2 1/4
6
430
4 1/4
335
3 1/4
275
2 3/4
7
-
-
395
4
320
3 1/4
8
-
-
450
4 1/2
365
3 3/4
9
-
-
505
5
415
4 1/4
10
-
-
560
5 1/2
460
4 1/2
Customer reviews
Product reviews are filtered by language.
The following reviews are available in English.
Elderly Cat

I buy the Royal Canine Sensitivity Control diet as my Vet prescribed it over a year ago, as my Cat is 18 years old and has the animal equivalent of IBS he also cannot eat biscuits & they make him sick; He loves his food and I have to be careful he does not eat the other 2 cats food! He gets a bit bored with the same diet, so I sometimes give him fresh fish and a little of the ordinary cat food. It's a pity you cannot get a discount for doing a repeat order, but at least its cheaper here than st the Vets.

Happy cat

I buy the wet and dry sensitivity for my cat it keeps her well and in good condition

The best

My vet recommended this years ago as my oriental cat vomits a lot after other foods. This is the only food that doesn't upset and I buy the same type in biscuits too. Simply perfect

Doubly Good!

On recommendation from the vet, our two cats have been enjoying the sensitive stomach food for the last six months and have had no incidences of sickness!

Bertie loves it!

Since being diagnosed with IBS my cat, Bertie, has had a very delicate digestion but the Sensitive food goes down very well and seems to suit him. Despite having it twice a day he is still excited when I get his plate ready! A bit disappointed that the new packaging also involved a drop from 100g to 85g contents with no mention of this that I could see.