Skip to content
Skip to navigation menu
You have setup the following Repeat Order: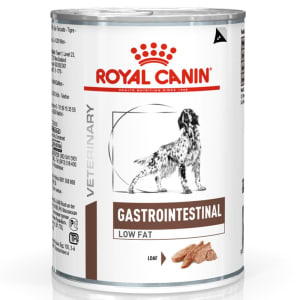 Royal Canin Gastrointestinal Low Fat Adult Wet Dog Food
Royal Canin Gastrointestinal Low Fat Adult Wet Dog Food
Product details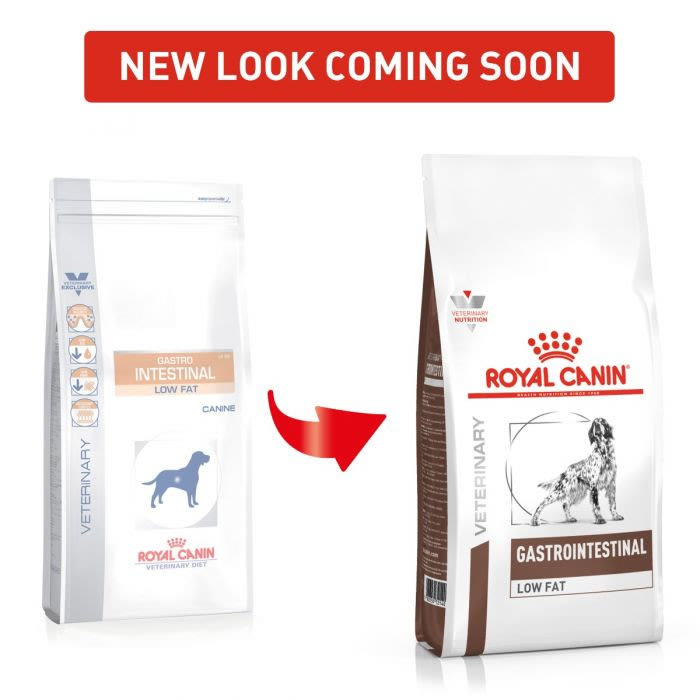 Royal Canin Veterinary Diet Gastrointestinal Low Fat aids a healthy digestive system in adult dogs with digestive disorders. This complete food helps regulate lipid metabolism in dogs with hyperlipidaemia.
How it works
Royal Canin Canine Gastro Intestinal Low Fat is a complete food made with low levels of fat and high levels of fatty acids to help improve your dog's digestion. It has been clinically developed with a combination of natural ingredients to prevent the irritation of upset stomachs.
Developed for dogs with gastrointestinal problems like pancreatitis, hyperlipidaemia and lymphangiectasia, Canine Gastro Intestinal Low Fat is made with highly digestible proteins to ensure your dog absorbs the maximum amount of nutrients. Thanks to its low fibre content, Gastro Intestinal Low Fat helps to limit fermentation and improve stool quality. A patented complex of antioxidants helps to neutralise free radicals and support your pet's digestive tract.
Key benefits
developed to support the digestive system of dogs suffering from gastro-intestinal disorders such as pancreatitis, hyperlipidaemia and lymphangiectasia
highly digestible formula helps your dog absorb essential nutrients
low fibre combination limits fermentation and improves stool quality
patented complex of antioxidants neutralises free radicals
packed full of nutrients to support your dog's digestive system
low fat, making it perfect for dogs who require a low fat diet to help digestive disorders.
When to use it
Gastrointestinal disorders in dogs can range from stomach upset and diarrhoea to more severe illnesses such as hyperlipidaemia and pancreatitis. These disorders affect the digestive system, meaning your dog can't efficiently digest food and absorb essential nutrients. A gastrointestinal disorder can be highly dangerous and should never be ignored.
The most common symptoms of digestive disorders in dogs are loss of appetite, vomiting and diarrhoea, but can be more severe, such as seizures and abdominal swelling. If you notice any of these symptoms you should contact your vet immediately for a full diagnosis. Your pet can become dehydrated during illness; making sure they always have fresh water will combat this.
Because veterinary diets are formulated for the nutritional support of pets with specific clinical conditions, we recommend that you only use them under professional advice. For more information on feeding Royal Canin Canine Gastro Intestinal Low Fat to your dog, please consult your veterinary surgeon.
Ingredients
Royal Canin Canine Veterinary Diet Gastro Intestinal Low Fat Lf22
Dry - Rice, dehydrated poultry meat, wheat, barley, hydrolysed animal proteins, beet pulp, animal fats, yeasts, minerals, fructo-oligo-saccharides (FOS), psyllium husks and seeds, fish oil, hydrolysed yeast (source of manno-oligosaccharides), marigold extract (source of lutein).

Wet - Pork liver, pork meat, maize, rice, minerals, cellulose fibre, beet pulp, taurine, yeast extract (source of mannan-oligosaccharides), fish oil, marigold extract (rich in lutein), trace elements (including chelated trace-elements), vitamins.
Warnings
Weight (kg)
Lean
Normal
Overweight
(g / day)
Cup / day
(g / day)
Cup / day
(g / day)
Cup / day
2
52
7/8
45
4/8
39
3/8
4
87
1 2/8
76
6/8
66
6/8
6
118
1 4/8
104
1 1/8
89
7/8
8
146
1 6/8
128
1 3/8
111
1 1/8
10
173
2 4/8
152
1 5/8
131
1 3/8
15
234
3
206
2 1/8
178
1 7/8
20
290
3 5/8
255
2 5/8
221
2 2/8
25
343
4 1/8
302
3 1/3
261
2 6/8
30
393
4 5/8
346
3 5/8
299
3 1/8
35
442
5 1/8
389
4
336
3 4/8
40
488
5 1/8
429
4 4/8
371
3 7/8
50
577
6
508
5 2/8
438
4 5/8
60
661
6 7/8
582
6 1/8
503
5 2/8
70
743
7 6/8
653
6 6/8
564
5 7/8
80
821
8 4/8
722
7 4/8
624
6 4/8