Skip to content
Skip to navigation menu
You have setup the following Repeat Order: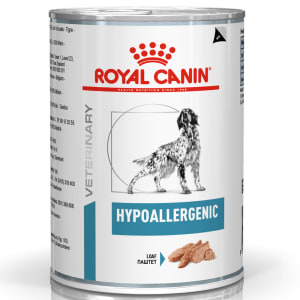 Royal Canin Hypoallergenic Adult Wet Dog Food
Product details
Royal Canin Veterinary Diet Canine Hypoallergenic is for dogs who have sensitive tummies. It's also low in calories – great if your dog needs to lose a bit of weight!
What it's for
Food intolerances make your pet sick when they eat food that has the ingredient they're intolerant to. It can give them a sore tummy, dry and itchy skin and a dull coat. Giving them a hypoallergenic food (like this one) means they're not eating the ingredient they're allergic to.
Signs to look out for are rashes on your pet's skin, scratching a lot, being sick and licking more than usual. If you think your dog has an allergy to their food you should go and speak to your vet as soon as possible. Your vet will probably recommend swapping their usual food for a hypoallergenic one. Although this food can help your dog bounce back, it's best to get your vet's advice before feeding it to them.
Key benefits
soy protein is used instead of ingredients that cause allergic reactions
easy to digest so your dog gets loads of goodness out of every mouthful
jam-packed with nutrients and fatty acids that help their digestive systems and soothe itchy skin
high protein and low calorie formula keeps your dog from gaining too much weight.
How it works
Food intolerances occur when your dog isn't able to digest a certain ingredient. The most common allergies for dogs are beef, chicken, wheat and dairy. Hypoallergenic DR 21 doesn't use these ingredients, using those that are easier on your dog's digestive system.
When your dog is having an allergic reaction they can end up with a sore tummy, itchy skin and a lowered immune system. Hypoallergenic DR 21 has lots of ingredients that help soothe these symptoms. It's great for dogs who like to overeat, as the formula is low calorie. It has less fat and more protein to help your dog get all the nutrition they need – even when they're on a diet!
Royal Canin clinical diets are formulated for the nutritional support of dogs and cats with specific clinical conditions and are designed to be used under the advice of your veterinarian. Veterinary diets are formulated for the nutritional support of dogs with specific clinical conditions and are recommended to be used under veterinary advice. For more information on feeding Royal Canin veterinary pet food to your dog, please consult your veterinary surgeon prior to purchasing online from PET SUPERMARKET®. No prescription is required to purchase Royal Canin Veterinary Diet dog Food from PET SUPERMARKET®
Ingredients
Royal Canin Canine Veterinary Diet Hypoallergenic Dr 21
Rice, hydrolysed soya protein isolate, animal fats, minerals, hydrolysed poultry liver, beet pulp, soya oil, Fructo-Oligo-Saccharides (FOS), fish oil, taurine, borage oil, L-tyrosine, marigold extract (source of lutein).
Feeding Guide
Feeding guide:
Weight (kg)
Lean
Normal
Overweight
(g / day)
Cup / day
(g / day)
Cup / day
(g / day)
Cup / day
2 kg
53 g
5/8 cup
46 g
4/8 cup
40 g
4/8 cup
4 kg
88 g
1 cup
78 g
7/8 cup
67 g
6/8 cup
5 kg
104 g
1+2/8 cup
92 g
1+1/8 cup
79 g
7/8 cup
6 kg
120 g
1+3/8 cup
105 g
1+2/8 cup
91 g
1 cup
8 kg
149 g
1+6/8 cup
131 g
1+4/8 cup
113 g
1+2/8 cup
10 kg
176 g
2 cup
155 g
1+6/8 cup
133 g
1+4/8 cup
15 kg
238 g
2+6/8 cup
210 g
2+3/8 cup
181 g
2+1/8 cup
20 kg
295 g
3+3/8 cup
260 g
3 cup
225 g
2+5/8 cup
25 kg
349 g
4 cup
307 g
3+4/8 cup
265 g
3+1/8 cup
30 kg
400 g
4+5/8 cup
352 g
4+1/8 cup
304 g
3+4/8 cup
35 kg
449 g
5+2/8 cup
396 g
4+5/8 cup
342 g
4 cup
40 kg
497 g
5+5/8 cup
437 g
5 cup
378 g
4+3/8 cup
45 kg
543 g
6+2/8 cup
478 g
5+4/8 cup
412 g
4+6/8 cup
50 kg
587 g
6+6/8 cup
517 g
6 cup
446 g
5+1/8 cup
55 kg
631 g
7+2/8 cup
555 g
6+3/8 cup
479 g
5+4/8 cup
60 kg
673 g
7+6/8 cup
593 g
6+7/8 cup
512 g
5+7/8 cup
65 kg
715 g
8+2/8 cup
629 g
7+2/8 cup
543 g
6+2/8 cup
70 kg
756 g
8+6/8 cup
665 g
7+6/8 cup
574 g
6+5/8 cup
75 kg
796 g
9+2/8 cup
701 g
8+1/8 cup
605 g
7 cup
80 kg
836 g
9+5/8 cup
735 g
8+4/8 cup
635 g
7+3/8 cup