Skip to content
Skip to navigation menu
Royal Canin X-Small Puppy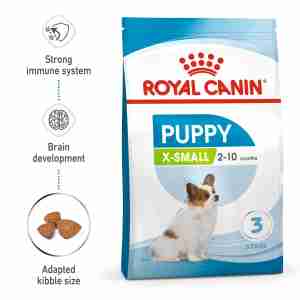 Rollover image to zoom
Product details
Small dogs typically live longer than larger dogs, but they also reach adulthood sooner. This means your small puppy needs the right energy content to help support its immune system. With Royal Canin they have developed a recipe that allows your puppy to grow gradually.
This specially formulated recipe helps to facilitate good stool quality, with a balanced intake of fibres. The recipe is designed to meet the energy needs of very small breed puppies throughout the early growth years.
The selected complex of antioxidants including vitamin E helps support your puppy's young immune system and natural defences. As well as beet pulp and psyllium husks as fibres to support intestinal health, digestion and transit.
All Royal Canin's products undergo an extensive quality control process in order to guarantee the optimum quality of food as well as catering to your dog's specific dietary requirements and lifestyle.
Product Benefits
Suitable for puppies of extra small breeds aged 2 - 10 months old
Includes vitamin E to help support their natural defence system and maintain healthy skin
Smaller kibble size specially created for smaller mouths
Great for fussy dogs due to tasty recipe
Puppy contains poultry, rice maize and vegetable protein for a high provision of energy
Ingredients
Feeding Guide
Dosage
Recommended daily quantities (g/day):
Adult weight

1 kg

2 kg

3 kg

4 kg

2 months

29g

2/8 cup

49g

4/8 cup

63g

5/8 cup

78g

6/8 cup

3 months

32g

2/8 cup

54g

4/8 cup

71g

5/8 cup

88g

7/8 cup

4 months

33g

2/8 cup

55g

4/8 cup

75g

6/8 cup

92g

7/8 cup

5 months

33g

2/8 cup

55g

4/8 cup

75g

6/8 cup

92g

7/8 cup

6 months

28g

2/8 cup

48g

4/8 cup

68g

5/8 cup

84g

6/8 cup

7 months

24g

2/8 cup

40g

3/8 cup

61g

5/8 cup

75g

6/8 cup

8 months

23g

2/8 cup

39g

3/8 cup

54g

4/8 cup

66g

5/8 cup

9 months

23g

2/8 cup

39g

3/8 cup

53g

4/8 cup

66g

5/8 cup

10 months

23g

2/8 cup

39g

3/8 cup

53g

4/8 cup

65g

5/8 cup


Water should be available at all times

We remind you of the necessity of watching your dog's body condition, and regular visits to your veterinary
Click here to check your dog's body condition
Customer reviews
Product reviews are filtered by language.
The following reviews are available in English.
Ideal for little mouths

Our puppy eats all her food she loves it

x small junior

eatI got this for my pregnant maltese as she was refusing her usual dry food,breeder recommended it,she loves it but now my other maltese and yorkie eat it so it will work out quite expensive,I can't seem to buy it in larger bags

Royal Canin for small puppies

I tried sooo many kibble types for my two Papillon pups and was at my wits end when a friend suggested RC. My boys LOVE it. I think it is because it's small and they can chew it easier than the big kibble I have tried, (Bob and Lush, Science Diet and more). I leave this down all the time and they eat what they want when they want. Super stuff.