Skip to content
Skip to navigation menu
Royal Canin Yorkshire Terrier Adult Dog Food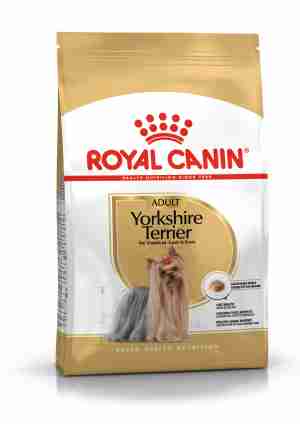 Rollover image to zoom
Product details
This complete food from Royal Canin has been specially developed for the needs of the Yorkshire terrier breed, with all the nutrients your pet needs to stay fit and healthy. Your dog's long coat is one of their best assets, so the food contains an exclusive formula of nutrients to keep it soft and shiny. Omega-3 and omega-6 fatty acids, along with borage oil and biotin, help ensure that your dog always looks his or her best. Also, the combination of exceptional flavours will tempt your dog even if he or she is a fussy eater. Since one of the most common health issues in dogs is tooth decay and pain, the food has been developed to support good dental health. The exclusive kibble shape works to prevent calcium in your dog's saliva from forming plaque, helping to keep their teeth clean. Key features:
exclusive nutrient formula including omega-3 and omega-6 supports a healthy, shiny coat
exceptional flavour combination appeals even to fussy eaters
kibble specially formulated to reduce plaque and support dental health.
When to use it
When choosing the best food for your dog, it's important to consider the things that make them different from other breeds. As a breed with unique traits and qualities, your Yorkshire Terrier will thrive on a diet tailored to their specific needs.
Your Yorkshire terrier's coat is one of the features that distinguishes them from other terrier breeds, and it's important to care for it properly to keep it healthy and looking its best. As well as regular brushing and washing with a gentle dog shampoo, the nutrients that you put into your dog are key to the way their skin and coat look.
Dental issues are one of the most common ailments your dog is likely to experience as they get older. As well as feeding your dog with a diet designed to support their teeth and gums, you should be sure to regularly clean your pet's teeth to prevent the growth of tartar.
Ingredients
Feeding Guide
Dosage
Recommended daily quantities (g/day):



DOG WEIGHT (kg)

LOW ACTIVITY

MODERATE ACTIVITY

grams

cup

grams

cup

2

41 g

4/8 cup

47 g

4/8 cup

3

55 g

5/8 cup

64 g

6/8 cup

4

68 g

6/8 cup

79 g

7/8 cup
Water should be available at all times
We remind you of the necessity of watching your dog's body condition, and regular visits to your veterinary
Check your dog's body condition
Customer reviews
Product reviews are filtered by language.
The following reviews are available in English.
Great for fussy eaters!

I have a Yorkshire Terrier who is so fussy with her food but at last I've found something that she likes! The kibble is nice and small and not too hard and she seems to actually enjoy eating times now rather than turning her nose up. As well as knowing she is eating, I'm happy as a "fur parent" that the food is nutritious and contains all the right healthy ingredients that she needs for a healthy diet.

Sorted the Problem

We have found this particular food ideal for our Yorkie, he previously had problems with his stomach, having had this food for a couple of weeks his problems disappeared and have not returned after about a year. He is fine now and very healthy.

Royal canin ypirkshire terrier food

Great value food our dogs love.

Royal canin - yorkie

My dog loves it, been giving it him for about a year now, fast delivery well worth it

Royal canin

This is one of the best nuts for our yourkshire terries i have three of them thay are so full of nourishment and keep the dogs on a good balance diet