Skip to content
Skip to navigation menu
Scalibor Collar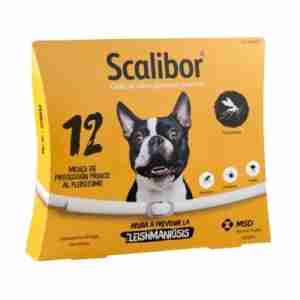 Rollover image to zoom
Product details
The Scalibor Collar offers up to six months' protection against a whole range of ticks, mosquitos and sand flies.
What it's for
It's worth thinking about how to protect your dog from insect bites all year round, but particularly in warm weather, when ticks and mosquitos are most active. These nasty creepy crawlies love to bite and burrow into your dog's skin, causing painful irritation as well as dangerous infections. In serious cases, mosquitos and ticks can carry nasty diseases and worms, which can have serious health consequences.
The Scalibor Collar is a great way to guard against tick, mosquito, and sand fly infections.
Key benefits
Deters ticks and sand flies for five to six months
Has an anti-feeding effect on mosquitos for up to six months
Patented technology releases insecticide/acaricide slowly
Odourless
Active ingredient, deltamethrin, safe for dogs
Safe for pets who are pregnant or lactating
Can be used on puppies aged seven weeks or older
Effective after one week.
How it works
The Scalibor Collar slowly releases chemicals that force blood-sucking insects to turn their noses up at the prospect of biting your dog. The active ingredient deltamethrin creates what's known as an anti-feeding effect in mosquitoes, meaning that even though they'll see your dog, they won't want to feed on their blood, keeping your pet safe from infection!
Deltamethrin is one of the safest forms of insecticide, so you don't have to worry about your dog's health when they wear it. However, it is toxic to fish and other aquatic life, so you should keep your dog from swimming for the first five days of wearing the collar.
The collar is effective after one week, so make sure you have your pup wearing it for a little while before letting them loose outside.
Do not use on puppies less than 7 weeks of age
Do not use on cats
To ensure that you read the most up to date information about this product, please check the VMD's Product Information Database.
Legal category: NFA_VPS | Scalibor Collar
Warnings
Contra-indications & warnings
Do not use in puppies less than 7 weeks of age.
Do not use on dogs with skin lesions.
Do not use on dogs known to be hypersensitive to pyrethroids. Do not use on cats.
As the collar exerts its full effect after one week, the collar should be applied 1 week before animals are likely to become exposed to infestation.
In rare cases attachment of ticks can occur while wearing the collar. Under unfavourable conditions the transmission of infectious diseases through ticks or sand flies can therefore not be ruled out entirely.
In rare cases localised skin lesions, localised dermatitis or erythema, pruritus and hair loss can be observed. In case of skin lesions remove the collar until symptoms have resolved.
In extremely rare cases neurological signs such as tremor and lethargy have been reported. If this occurs, the collar should be removed. These symptoms usually subside within 48 hours. Treatment should be symptomatic, as no specific antidote is known.
In the unlikely event of the dog eating the collar the following symptoms may occur: uncoordinated movements, tremor, drooling of saliva, vomiting, rigidity of the hindquarters.
These symptoms usually subside within 48 hours.
Diazepam can be used for symptomatic treatment if necessary. Do not use with other ectoparasiticides containing organophosphates.
While occasional contact with water does not reduce the effectiveness of the collar, it should always be removed before swimming and bathing the dog because the active substance is harmful to fish and other aquatic organisms. Dogs must be prevented from swimming in water for the first five days of wearing the collar.
Dosage
48cm collar is to be used on small and medium-sized dogs
65cm collar is to be used on large dogs
For fastening around the neck

One collar per dog

For external use only

Remove the collar from the sealed protective sachet. Adjust the collar around the animal's neck without tightening it too tight. Two fingers side-by side should fit between the band and the dog's neck

Slide the end through the buckle and cut off any excess length extending beyond 5cm

Can be used during pregnancy and lactation
Customer reviews
Product reviews are filtered by language.
The following reviews are available in English.
Scalibor dog collar ourchase

I ordered this by telephone and was helped by a young man who was polite, and efficient. The correct collar arrived in the timescale exactly as requested and I was very pleased with my dealings with Petsupermarket

Smashing does what it says 5 stars

Coller for our Rocco works a treat it works .

Scalibor collars

We often take our dogs to southern Europe where sandfly fever is rife. These collars seem to do the job and we feel confident that our dogs are safe. The added bonus is they are also effective against ticks

Very pleased great delivery

Collers are amazing I am in Italy and they work fantastic

good for Europe/Spain

have used this product several times on our visits to Spain. Wouldn't go without using it for my dog