Skip to content
Skip to navigation menu
Seraquin for Cats & Small Dogs with Chondroitin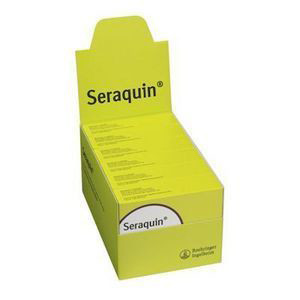 Product details
Seraquin for cats & small dogs is a super-helpful joint supplement designed to help your little pet's bones stay healthy in their golden years.
What it's for
Cats and dogs alike love to run, jump and play, but naturally slow down in senior life as their bones begin to show the signs of aging. Seraquin tackles symptoms like joint swelling and pain as well as fighting the causes. It slows the breakdown of cartilage and fights off challenges like free radicals that attack and wear down cells over time.
Seraquin comes in a chewable tablet, so most cats and dogs will happily accept it as a treat or crushed onto food. It's safe for lifetime use and can be given alongside most prescription medications – just check with your vet if you have any queries. Be sure to take older pets in for frequent checkups in case of underlying problems like arthritis.
Key benefits
specifically for bones and joints of smaller dogs and cats
contains building blocks for cartilage repair
slows the ageing process in cartilage
anti-inflammatory properties target swollen joints and reduce pain
suitable for use with most prescription medicines
safe for lifetime use
comes in a chewable tablet your pet should gobble up
How it works
Seraquin supports healthy joint function in a variety of ways. Active ingredients like amino sugars help to cushion joints, while chondroitin and anti-inflammatories work to reduce pain and increase your pet's range of movement. By slowing down the breakdown of cartilage, your pet can enjoy their strolls for longer.
Seraquin is safe for pets who are already taking most prescription medicines, but it's always best to have a chat with your vet. Please note that this supplement has not been tested on pregnant or lactating animals.
Dosage
Cats and Small Dogs (under 10kg) Seraquin 800mg chewable tablets (initial period of 4-6 weeks or as recommended by a veterinary surgeon)
| | |
| --- | --- |
| Weight | Tablets per day |
| Less than 5kg | 2 |
| 5-7.5kg | 3 |
| 7.5kg | 4 |
Customer reviews
Product reviews are filtered by language.
The following reviews are available in English.
Does what it says

I bought these tablets for one of my cats, who's is showing signs of her age regarding her mobility. She is 10 years old and hobbling a little bit! She is now into the second month of taking them and there has been a definite improvement. I am so pleased! I put them into her bowl with dry food and they are the first thing she eats.

Seraquin for cats

This product has made a difference to my almost 17 year oldcat. It has improved her mobility noiceably and she eats the tablet like a treat which really helps.

Good one!

Very good service, what I ordered delivered within 5 days

These definitely help

Our cat, Walter, is 16 now, he's been having these tablets since the beginning of 2016 when back legs were quite bad, some days he would "moon walk" as though they were vary painful and he'd started climbing rather than jumping, it took a couple of months to get the real effect of Seraquin but since then his legs have been much better and he has been able to run and jump normally, we never did get down to the lesser dose of one tablet a day, he likes them so much he crunches the first one and looks for the second and we haven't the heart to deny him, our vet just laughs, she's seen the benefit of them because he has diabetes so when he goes for his checks she always tests his leg muscles and is impressed at how good they are. I'd thoroughly recommend these tablets, they are worth every penny of the price, I don't like to think what a state he would be in by now if we hadn't tried them, he might not have still been here if he'd lost the use of them altogether.

Creaky old lady-cat gets new lease of life!

I recently adopted 11-year-old Muffin from a rescue centre and it has quickly become apparent that she has osteo-arthritis and this has been causing her some discomfort, limiting her movements and causing litter tray issues. After a recommendation from the vets, she has been taking Seraquin for six weeks now. She absolutely loves the tablets and wolfs them down like treats - they are huge so I use a cheap pill-cutter from my local pharmacy to cut them into quarters. In the last four weeks, she has not had a single flare up of arthritis and her general movement is much more fluid and she seems much more comfortable in herself. She is also in combination with one of the Kokoba high-sided litter trays managing to use her litter tray more effectively. Brilliant improvement in six weeks in total.