Skip to content
Skip to navigation menu
Simple Solution Stain & Odour Remover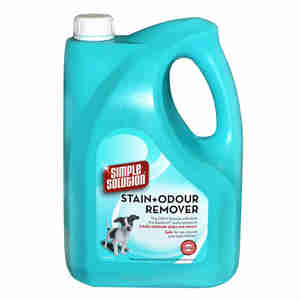 Product details
Simple Solution stain and odour remover makes cleaning up after little accidents easier. The special formula breaks down smells and marks and discourages your cat from repeat offences.
What it's for
Cleaning up little messes is part and parcel of being a pet owner. Cats will sometimes leave little surprises around the house if they don't fancy using a used litter tray, or in some cases to mark their territory. If your cat is ill, they'll have less control over their bodily functions – especially if they're suffering from sickness and diarrhoea. This spray is made for cleaning up after these little messes, completely removing organic stains and neutralising the smell.

If your cat has been poorly for a few days, it's best to pop them into the vet for a checkup. It's also worth chatting to the vet if your pet has consistently been avoiding their litter tray, as this could be a sign of a serious illness such as diabetes.
Key benefits
easy spray trigger for quick cleaning
smells like freshly cut grass
safe to use around children and pets
great for cleaning up cat urine, faeces and vomit
contains special probacteria and enzymes that break down pet mess
safe to use on upholstery, carpet and other water-safe surfaces
gets rid of marks and smells left by little accidents
enzymes discourage your cat from making a mess in that spot again
How it works
This cleaning spray is designed for getting rid of smells and marks left behind by cat mess. The formula contains enzymes and probacteria that break down urine, vomit and poo, so your home is left looking clean and smelling fresh. It neutralises nasty smells and replaces them with a fresh grassy aroma. It also helps to stop repeat behaviour, encouraging your pet to head back to their litter tray.
The ingredients are natural, so it's safe to spray in homes with small children and other pets.
Customer reviews
Product reviews are filtered by language.
The following reviews are available in English.
Excellent

It is indeed a very good thing. Having a few dogs in the house means that accidents happen, but this stuff helps well to keep the house clean.

Best ever!!

I bought this as a last ditched attempt before paying for a professional cleaning service , it's brilliant! Old stains new stains on my cream carpet thanks to my poorly old dog have vanished leaving a fresh smell .. thanks to this product !

Brilliant.

This product is amazing and been used quite a lot since our cockerpoo puppy joined us, highly recommended.

I've previously used the cat version of this, so when I had a puppy I got some in ready as I have carpet throughtout. It certainly does the job.

Very good service and price. Brilliant product have used it for years & always have some in the house.