Skip to content
Skip to navigation menu
Skinners Field & Trial Lamb & Rice Hypoallergenic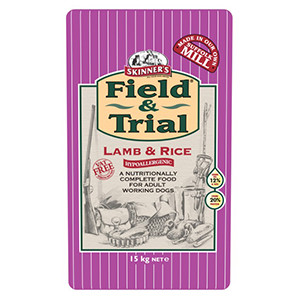 Product details
If your dog has a sensitive stomach, then this Skinners field and trial lamb and rice hypoallergenic food is ideal.
What it's for
Lots of dogs suffer from sensitive stomachs, and it can make choosing food for them a bit tricky. If eating makes your pet get dry skin, need the toilet more often than normal, or pass lots of wind, then a food allergy could be the culprit. This kind of allergy is normally caused by proteins, which are found in most meats. These proteins can be hard to break down for some dogs, and that causes allergic reactions.
This food has been carefully blended to include proteins that are much easier to digest and absorb, and can help to relieve some of the symptoms of a sensitive tummy. If you think your best friend might have a food allergy, have a chat to your vet.
Key features:
hypoallergenic recipe
suitable for all breeds
contains glucosamine which boosts your pet's joint health
packed with vitamins and minerals
gentle proteins and fibres for easy digestion
all-in-one meal.
How it works
Because this food doesn't contain most of the common causes of food allergies (wheat, gluten, beef, and dairy in particular), it's much easier for your canine pal to digest. It's also less likely to cause any allergic reactions. The mix still tastes great though. Lamb and rice give your pet all the protein and fibre they need, and peppermint, seaweed and fennel are great for soothing an upset tummy. They'll have plenty of energy for a game of fetch or chase after meals, and added glucosamine makes sure their joints stay strong too.
Given the great nutrition, this food is also perfect for working animals, like guide dogs or sheep dogs.
Ingredients
Brown rice (40%), lamb meat meal (25%), barley, chicken fat, whole linseed, lucerne, vitamins, minerals and trace elements, culinary herb mix.
Additives: Nutritional additives per kg: Vitamin A 13,000 iu, Vitamin D3 2,000 iu, Vitamin E (as alpha-tocopherol acetate) 310 iu. Trace Elements per kg: Iron (as ferrous sulphate monohydrate) 40mg, Iodine (as calcium iodate anhydrous) 1.5mg, Copper (as cupric sulphate pentahydrate) 5mg, Manganese (as manganous oxide) 25mg, Zinc (as zinc oxide) 100mg (as zinc chelate of amino acids hydrate) 30mg, Selenium (as sodium selenite) 0.1mg. Contains tocopherol rich extracts of natural origin (Vitamin E) as EC permitted antioxidant.
No artificial additives, flavourings or preservatives
Feeding Guide
Recommended quantity/day:
Dog weight (kg)
3-11 weeks
3-4 months
5-6 months
7-9 months
Grams
1-3
80-185
85-175
70-135
60-110
3-5
185-225
175-220
135-170
110-130
5-10
225-430
220-410
170-280
130-220
10-15
430-545
410-525
280-375
220-300
15-20
545-680
525-630
375-450
300-350
20-25
-
630-730
450-580
350-400
25-35
-
730-900
580-690
400-450
35-45
-
-
690-800
450-520
Always make sure that your dog have access to plenty of water.