Skip to content
Skip to navigation menu
Skinner's Hypoallergenic Field & Trial Duck & Rice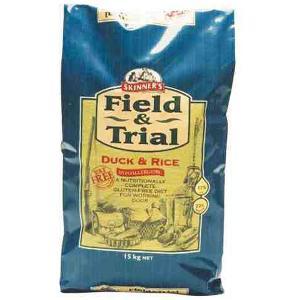 Product details
Skinners Field and Trial Hypoallergenic Duck and Rice helps to reduce your dog's contact with ingredients that are likely to cause them problems.
What it's for
If your dog has a food allergy, it can make them very poorly. Allergy or intolerance to an ingredient in their food stops their digestive system working efficiently. When they can't digest their food, they can't absorb essential nutrients.
If you think your dog might be allergic to something in there food there are a few symptoms you can look out for. Sickness, diarrhoea and sore or irritated skin could all be signs of intolerance. You should take your pet to the vet as soon as you notice any of these.
You can make your dog more comfortable by giving them a food that cuts out the common causes of irritation. Skinner Field and Trial Hypoallergenic can replace their regular food for life. Check the feeding guidelines to make sure they're getting the right amount for their size and weight.
Key benefits
made without wheat, gluten, maize gluten, soya, dairy and barley to cut your pet's contact with ingredients that are likely to upset them
contains duck as a tasty and rich source of protein
packed full of nutrients and vitamins to support their general health
kibble coated in sunflower oil to help their coat shine
glucosamine and chondroitin are added to care for their joints.
How it works
Skinners Field and Trial Hypoallergenic can help cut your pet's contact with ingredients that are likely to irritate them. It's made without wheat, gluten, maize gluten, soya, dairy and barley, which are common causes of intolerance.
If your dog has an allergy, their body struggles to digest their food. This means they don't absorb valuable nutrients. This complete mix is made with British duck meat that's super easy to absorb, meaning they get the maximum amount of goodness from every mouthful.
As well as cutting out allergies, this food supports your pet's general wellbeing. It's packed full of vitamins to help their immune system. The kibble is coated with sunflower oil to keep their coat glossy and healthy. Added glucosamine and chondroitin help to support their joints to keep them active and mobile.
Ingredients
Skinners Field & Trial Hypoallergenic Duck & Rice
Ingredients
Whole rice (40%), duck meat meal (20%), naked oats, peas, whole linseed, sunflower oil, beet pulp, vitamins and minerals.
Free from artificial additives, flavourings and preservatives.
Typical analysis
Protein
22%
Oil
11%
Fibre
3. 5%
Ash
5%
Vit A
10, 000 iu/kg
Vit D3
1, 500 iu/kg
Vit E
280 iu/kg
(as alpha-tocopherol)
Copper
12 mg/kg
(as copper sulphate)
Dosage
Skinners Pet Food Feeding Guide
This feeding guide is approximate only and is based on our feeding guide level of 100g per 8kg of body weight.

Nutritional requirements of all dogs can vary according to breed type, gender, age or activity level.

Make sure that a good supply of fresh drinking water is available at all times.
For information on daily feeding guidelines please click here
Requires Adobe Reader. If you have difficulty opening this document, right-click the link and select 'Save Target As... '
Customer reviews
Product reviews are filtered by language.
The following reviews are available in English.
Allergies

My 7 yr old lab girl has Atopy to house mites but other things can trigger a flare up so I keep everything as sensitive as possible. Also feed my 2yr old same stuff to cut down on different bags of food. Both girls love it, their coats and poops! are great.

Okay

It has made our dogs coats very dull and lacklustre. Sorry Skinners but, I will be going back to our old tried and trusted dry dog food

Skinners Hypoallergenic Duck and Rice

Good food at a cheaper price than my previous brand. My springer loves it and so does the cat when he can steal some!

Skinners Hypoallergenic Duck & Rice

Good value when bought with loyalty discount to apply, otherwise slightly more than I pay locally

Skinner hypoallergenic duck & rice

I've had 3 boxer dogs who have all had sensitive tummies but my present is the most sensitive. We rescued him 7 years ago and he had lots of problems but since feeding him skinners he has been 100% better