Skip to content
Skip to navigation menu
You have setup the following Repeat Order: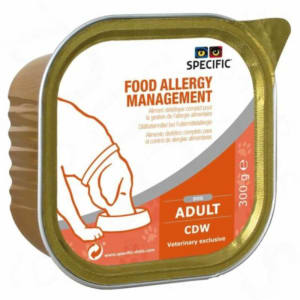 Specific Allergy Management Adult Wet Dog Food - Lamb
Product details
SPECIFIC™ Veterinary Food for Dogs
SPECIFIC™ offers a complete high quality product range within life stage diets for healthy pets and therapeutic diets for management of clinical conditions to provide pets with the best nutritional platform throughout their life. SPECIFIC™ diets consist of a selection of high quality raw materials and offer both high digestibility and palatability.
 
All SPECIFIC™ diets are sold exclusively through veterinarians to ensure that pet owners are always given optimal nutritional advice. SPECIFIC™ are developed and produced in Scandinavia by Dechra Veterinary Products. The SPECIFIC™ diets from Dechra are developed in close collaboration with veterinarians, vet nurses and experts in animal nutrition.
The range of SPECIFIC™ diets consists of complete life-stage diets for healthy cats and therapeutic diets for the management of clinical conditions. To make sure that you always get the diet that suits your cat, SPECIFIC™ is sold only through veterinarians.
No prescription is required to purchase SPECIFIC™ Veterinary Dog Food from PET SUPERMARKET®
SPECIFIC™ Food Allergy Management
Highly digestible ingredients to facilitate full digestion of the food


A reduced fibre level to increase the digestibility


Limited number of ingredients
SPECIFIC™ Food Allergy Management is a nutritionally complete, balanced hypoallergenic diets which contain a restricted number of ingredients. The clinical signs of food allergy or intolerance (mainly dermatological and gastro-intestinal problems) can be avoided by providing a diet which does not contain the allergen concerned. By using only a limited number of ingredients to which the animal has never or only rarely been exposed, the probability of hypersensitivity occurring following feeding of SPECIFIC™ Food Allergy Management is minimized.

In order to prevent symptoms of adverse food reactions, it is essential that no foodstuffs other than the hypoallergenic diet are given.
Ingredients
Dry - Ingredients: Cereals, Egg and egg derivatives, Oils and fats, Minerals, Plantago psyllium husk

Wet - Ingredients: Meat and animal derivatives, Cereals, Oils and fats, Minerals, Powdered cellulose, Plantago psyllium husk
Dosage
It is recommended that a veterinarian's opinion be sought before use or before extending the period of use.
Customer reviews
Product reviews are filtered by language.
The following reviews are available in English.
Excellent

Kiki bichon frise has been on this over a year due to having two types of bladder stones. After having them removed she was put on this. She has been well ever since. I notice she also doesn't get tear stains with this food

Specific cdw dog meat

Dog meat is great value for money

Excellent food and it works

My bichon was suffering from bladder stones hence why she was prescribed this. To date she is well and this food has all the nutrients she needs

Our dog looks forward to his meal times and gets really excited when his dish goes down