Skip to content
Skip to navigation menu
Specific Canine CCD Struvite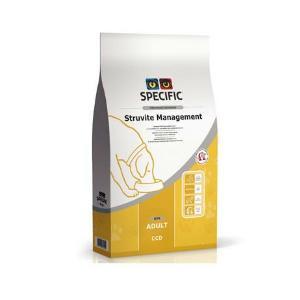 Product details
SPECIFIC Canine CCD Struvite Management has a reduced content of magnesium and phosphorus (components of struvite crystals) for prevention and dissolution of struvite crystals and stones.

Key Benefits:
A urine pH below 6.4 dissolves existing struvite crystals and prevents precipitation of new struvite crystals.
High quality and highly digestible ingredients ensure a maximum uptake of nutrients from the diet, whilst reducing faecal output.
EPA and DHA are both omega-3 fatty acids with a beneficial effect on the maintenance of healthy skin and coat and healthy joints.

Ingredients
Cereals, Vegetable protein extract, Oils and fats, Egg and egg derivatives, Minerals, Hydrolysed chicken protein, Fish and fish derivatives, Powdered cellulose, Plantago psyllium husk
Dosage
It is recommended that a veterinarian's opinion be sought before use or before extending the period of use.
Customer reviews
We're sorry but there are no reviews of this product in English.