Skip to content
Skip to navigation menu
Specific Canine CED Endocrine Support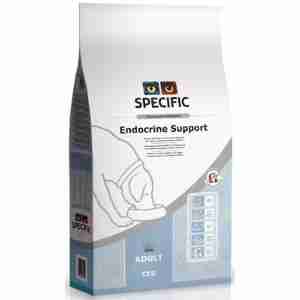 Product details
SPECIFIC Canine CED Endocrine Support had nutritional support to complications as poor blood glucose control, hyperlipidaemia, poor skin condition, recurrent infections and overweight, which are associated with endocrine disorders as diabetes mellitus, hypothyroidism or hyperadrenocorticism (Cushing's disease).
Key Benefits:
Cereals with a reduced glycemic index (whole wheat and oats) and a high level of fibre to promote gradual release of glucose from the diet to reduce postprandial hyperglycemia for support of patients with diabetes mellitus.

Unique high levels of omega-3 fatty acids EPA and DHA from fish oil and omega-6 fatty acid GLA from borage oil. High intake of omega-3 fatty acids has shown to reduce blood lipids in case of hyperlipidaemia, help to reduce hypertension and increase insulin sensitivity. These fatty acids can affect the immune response and alter eicosanoid production. Through production of less-inflammatory eicosanoids, they can dampen hyperresponsive inflammatory reactions.

Contains ß-1,3/1,6-glucans from yeast, and increased levels of zinc, selenium and omega-3 fatty acids to support the immune status. Betaglucans can bind to macrophages and alert the immune system, resulting in an enhanced anti-microbial activity and cellular defence and an anti inflammatory response.

A complete, balanced diet with a very moderate energy density for support of optimal weight management. The controlled levels of minerals like phosphorus and sodium reduce the workload of the kidneys and the likelihood of progression of reduced kidney function in senior dogs.

With EPA and DHA from fish oil for support of healthy skin and coat and healthy joints.

Customer reviews
We're sorry but there are no reviews of this product in English.