Skip to content
Skip to navigation menu
Specific Canine COD-HY Allergy Management Plus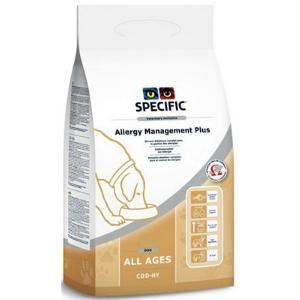 Product details
Soothe your dog's allergies and intolerances with this Specific Canine COD-HY Allergy Management Plus. A nutritionally complete dry food, it helps to combat sensitive stomachs and skin.
What it's for
This food helps to manage the nasty symptoms of allergies and intolerances in dogs. If your dog suffers from adverse reactions to food or elements in their environment, Specific Canine COD-HY Allergy Management Plus can soothe issues including diarrhoea, inflamed skin and a dry coat.
If you're concerned about your dog's symptoms and aren't sure how to manage them, it's always best to contact your vet. They will be able to offer a course of treatment and may even suggest a food like this one to help. If you plan to switch your pet's food, do it gradually by mixing the two brands to prevent an upset tummy.
Key benefits
balanced mix specially designed for dogs with allergies or intolerances
vitamins, minerals and antioxidants support the immune system
easy to digest thanks to gentle salmon protein
omega-3 and -6 fatty acids, zinc, selenium and vitamins A, E and B soothe inflammation for healthy skin and coat
How it works
This mix contains all the ingredients that can help to tackle your dog's symptoms from allergies and intolerances. Salmon protein and rice are easy to digest, soothing an upset stomach while providing plenty of energy to keep your pet's activity up and their weight down.
Omega-6 fatty acids, zinc, selenium and vitamins A, E and B all contribute to a thick, healthy coat, while omega-3 nourishes the skin so it's not flaky or dry. This is particularly helpful for dogs that suffer from atopy.
Customer reviews
Product reviews are filtered by language.
The following reviews are available in English.
Seems to help with allergies

My dog has atopic skin and ear allergies. My vet recommended this, I was previously raw feeding. I was nor happy at first to change to a kibble but I have to say that this alongside medication has made some difference. Keeping on top of his allergies is a full time job.

Perfect food for dogs with allergies

My dog Jack tried a lot of different diet to try to defeat his allergies and finally with this hypoallergenic food he feels really well now!

Keeps colitis under control

Our cocker spaniel suffered with colitis badly during his younger years. Our vet recommended this product and we have never looked back. We used to use steroids and antibiotics several times each year which we were unhappy about. This food sorted the issue and he loves it too!

Westie approved

My Westie, Archie, started getting sore skin on his back and licking his paws. After antibiotics & antihistamines from the vet we decided to take a more holistic approach, taking him off medication and looking at diet. He had always been on a good quality hypoallergenic diet but after speaking to another vet he recommended this food. Within a month Archie's symptoms had gone and a year on he is thriving on this food.

Recommended for dogs with skin allergies

This product was recommend by my vet and seems to have helped the problem my Cavalier King Charlesd Spanile has with a recurrung skin allergy. Highly efficient service and can thoroughly recommend medicalanimal.